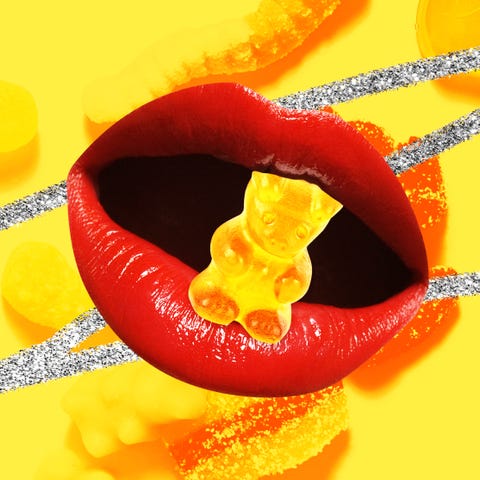 Ruben Chamorro | Getty | Cosmopolitan
Hey, cutie. Just wanted to let you know that this story originally ran in our June issue, so if you like what you see, you should probably snag a hard copy ASAP. Bye!
---
Last year, "CBD gummies" was the third most-Googled food in the entire U.S. So yeah, you've likely heard of these little nuggets that contain cannabidiol (aka CBD), the part of weed that chills you out but not the part that inspires you to down a party-size bag of Doritos. Maybe you've even heard reviews—from stoner and non-stoner friends alike—about how the non-hallucinogenic bites are ideal for erasing Big Stress Energy or helping you wind down before bed. And you've probably still got questions. Great, 'cause we've got answers.
Are you sure these work?
It does sound kinda like a scam, but solid scientific studies show that CBD can latch onto cells in your gut and immune system, relieving anxiety, pain, and inflammation, says Joseph Maroon, MD, a clinical professor of neurological surgery at the University of Pittsburgh Medical Center. But that's the pure stuff—there's no legit research on the effectiveness of CBD in gummy form. In other words: They maybe work (at least, they did for our editors—see our own reviews below!).
How many do I have to eat?
Figuring out whether you'll need 2 or 10 to calm the hell down is (you guessed it) also a mystery, says Jeffrey Bost, a clinical instructor at the University of Pittsburgh Medical Center. Start with one gummy per day. Nada? Try two. Still nada? Slowly up your dose until you get some results. It's pretty tough to OD on CBD, says Bost. The worst side effects of very high doses are drowsiness and mood changes. (And pls note that the long-term effects are still TBD.)
Where can I even buy some (without, um, getting arrested)?
If you live in a state where all types of ­devil's lettuce is legal, you can buy CBD ­gummies almost ­anywhere—even at some gas stations. For everyone else, there's the interwebs. Amazon sells them and can ship to your door for about $40 (yeah, chillin' ain't cheap).
Just a Few CBD Gummies to Help Ya Chill the Hell Out
Is that legal? Again…sort of, says Franklin Snyder, a professor at Texas A&M University School of Law. Late last year, CBD made from legally grown jazz cabbage was bumped off the government's list of seriously illegal drugs; the FDA even approved it to treat epilepsy. And while it's now fine to sell CBD in a tincture, oil, or lip balm, technically companies still can't put it in food. And gummies = food, says Snyder. That said, buying a bottle isn't a crime.
How do I know if a brand is legit?
Call the company's customer service and ask for its CBD quality test records, says Ashley Lewis, CEO and cofounder of Fleur Marché, a Sephora-like marketplace of hemp-based swag. "That's the most reliable way to know how much CBD, if any, is in each gummy," she adds. And don't get suckered by hempseed oil—not the same thing.
---
We came, we ate, we chilled
The Cosmo staff took a bunch of CBD gummies, and here's what happened.
"Instead of a much-needed post-work drink, I downed four gummies. Not long after, I was smiling for a little too long at my boyfriend's bad jokes." —Katie, 28
"One massive frog made me way too laid-back for an important Tuesday afternoon meeting with my boss. But I'm not mad." —Meredith, 39
"I popped three while getting ready for bed—usually when I have my most anxious brain—and by the time I hit the pillow, I felt chilled out." —Hannah, 26