The world's largest medicinal cannabis company has urged the government to allow GPs to prescribe the drug, calling on the UK to be a "leader not a laggard" in one of the world's fastest growing major industries.
Cam Battley, chief corporate officer of Canada-based Aurora Cannabis, said the UK was failing patients who might benefit from medicinal cannabis, as well as forfeiting economic gain, due to the restrictions of the existing regulatory regime.
Sajid Javid, the home secretary, authorised the use of medicinal products derived from cannabis last year following a long-running campaign fronted by the parents of children suffering severe epilepsy, who reported that cannabis oil helped with their condition.
But it can only be prescribed by specialist physicians and cannot be imported until a prescription has been issued. These rules, coupled with division among doctors about how effective it is, means fewer than 100 patients are thought to have been prescribed it.
"What was the point of creating a medical cannabis system if patients can't access it?" Battley said, speaking at the annual Cannabis Europa conference in London, attended by leading firms in the nascent but already multibillion dollar industry.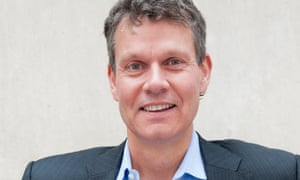 Cam Battley is the chief corporate officer of Aurora Cannabis, the world largest medicinal cannabis company. Photograph: Jill Mead/The Guardian
"It's time for the UK to take this system that is not working and make it work," he said. "Let's make sure that general practitioners can prescribe. There's no need for requiring a specialist consultant to write a prescription. I'd like to see the UK be a leader, not a laggard."
David Henn, chief executive of Germany-based Cannamedical, backed Battley, saying the law "does not make great sense for patients" and also forced up costs.
He said restrictions on imports caused by the UK's regulatory regime meant that Cannamedical could profitably sell medicinal cannabis to pharmacies in Germany at €10 a gram but would have to ask for £30 a gram to achieve the same margin in the UK.
"We need to be able to hold stock, bring in larger amounts so that as soon as there is a prescription you can distribute to pharmacies," he said.
He added that a no-deal Brexit could make it near-impossible for UK patients to obtain medicinal cannabis, unless the UK aligns itself with EU rules on good manufacturing practice.
Campaigners and companies that produce cannabis say patients have reported that it can help with pain, epilepsy and nausea, including sickness caused by chemotherapy.
Battley told the Guardian that the company was "making progress" in discussions with the government about loosening regulation, adding that it was only in the last year that politicians had been willing to speak to the company.
He pointed to Aurora's domestic market of Canada, where he said the number of patients had gone from a handful to 400,000 in just a few years, with 20,000 physicians having prescribed cannabis since its medical use was legalised in 2001.
Recreational marijuana is also legal in Canada, which has become the de facto centre of the global industry, hosting giants such as Aurora, which produces 160,000kg of dried flower a year and has a stock market value of more than £5.5bn.
Canopy Growth, a rival which trades under the stock market ticker WEED and has a partnership with rapper Snoop Dogg, is the largest company by stock market value, at £10.6bn.
Sign up to the daily Business Today email or follow Guardian Business on Twitter at @BusinessDesk
Battley also warned that the UK was missing out on developing its own cannabis industry due to the restrictive regulatory environment.
"It's not that often that a new industry is invented in real time. The UK should grab hold of that and the jobs that will ensue.
"Otherwise there will be questions asked and fingers pointed about who missed the opportunity. I'd like to have a very robust presence here. This country is ideal."
He also predicted that the UK would eventually legalise cannabis for recreational use but said that policymakers would reach this decision "organically".