Marijuana policy experts predicted that this year would be a "real game-changer" in terms of cannabis reform at both the state and federal level. But halfway through 2019, the movement has had less progress than hoped.
"The reality is that public policy change rarely works that way. Slow and steady tends to be how change like this happens," John Hudak, deputy director at the Brookings Center for Effective Public Management, told Newsweek.
"There are of course watershed moments, but those are rare. 2019 has not been a watershed moment," Hudak added.
To date, 11 states and the District of Columbia have legalized marijuana for adult recreational use. Medical marijuana use for qualifying patients is also legal in 33 states. But cannabis remains illegal under federal law, sharing the same drug classification as heroin, ecstasy and LSD.
In 2018, advocates for legal marijuana saw two more states decriminalize the drug for recreational use and a handful of states (largely located in the Midwest) approve measures allowing for medical marijuana use. Plus, bipartisan cannabis legislation was introduced in Congress for the first time in 2018 through the States Act. President Donald Trump even said he would likely support the bill if it were to pass in the House and Senate.
Only one state has legalized marijuana for recreational use so far in 2019, although it did so in record-breaking fashion. In June, Illinois became the second-largest state to legalize adult use cannabis and was the first state ever to use its legislature to pass a commercial system.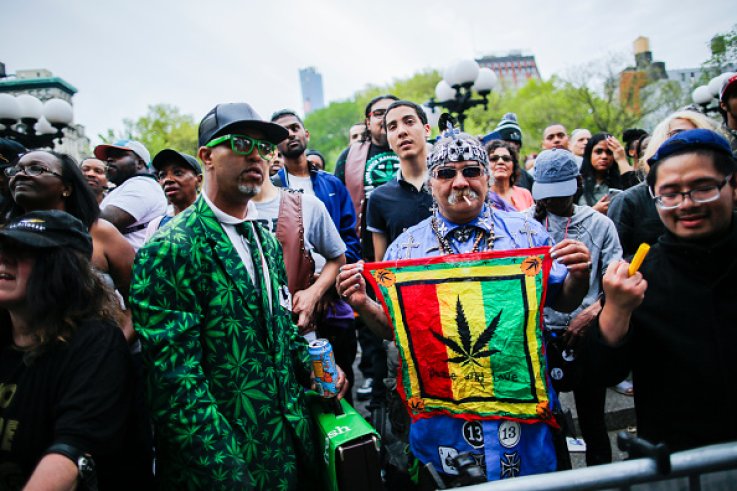 People attend the World March for Cannabis legalization on May 5, 2018 in Manhattan, New York . The Cannabis or Marijuana March is an international day to protest against prohibition and support the legalization world wide.
Eduardo Munoz Alvarez/VIEWpress/Corbis via Getty Images
Other states where marijuana policy reform was expected to pass easily this year, like New York and New Jersey, were not successful despite being backed by a majority of state leaders. Hudak said these failures show "that simply wanting a law to pass and simply having public support for that law is no guarantee that a legislature will move."
But marijuana reform has had a growing role in national politics, especially on the 2020 campaign trail. Nearly every Democrat running for president has said they support decriminalizing the drug, a stark difference from the 2016 election.
"Four years ago, no one was talking about it. That is no longer the case," Steve Hawkins, the executive director of the Marijuana Policy Project, told Newsweek. Hawkins predicted that momentum from 2020 candidates will help drive more state referendums on marijuana legalization during next year's election cycle.
Here's a deeper look at some of the biggest things to happen in terms of marijuana policy reform this year:
Illinois Makes History By Legalizing Marijuana Through State Legislature
Illinois became the 11th state to legalize recreational marijuana in late June but made history as the first state to so through its legislature. In 2018, Vermont lawmakers voted to legalize marijuana but for home-grown possession only, not commercial sales.
Under the Illinois measure, state residents over the age of 21 can purchase and possess up to 1 ounce (30 grams) of marijuana at a time while nonresidents can purchase up to 15 grams. Counties and cities within Illinoins may prohibit cannabis businesses from setting up shop in their area but they cannot ban individual possession of the drug.
The law also expunges criminal records for past low-level offenders. Plus, it gives preference to potential cannabis vendors in areas of high poverty and a large number of drug convictions. A portion of the tax revenue gained from marijuana sales will be reinvested in low-income communities.
"The legalization of adult use cannabis brings an important and overdue change to our state, and it's the right thing to do," Governor J.B. Pritzker said after signing the bill into law. "Today, we are giving hundreds of thousands of people the chance at a better life, jobs, housing and better opportunities."
The California Compassionate Care Network (CCCN) marijuana dispensary's grow operation is one of the stops on the cannabis tour organized by L.A.-based Green Tours, January 24, 2019 in Los Angeles, California. Los Angeles, in 2016, became the largest city in the world where cannabis is legal, many guides offer tourists the opportunity to immerse themselves in this industry.
Robyn Beck/AFP/Getty Images
New York, New Jersey, Rhode Island — What Happened?
Marijuana policy experts had their eyes focused on Northeast states like New York, New Jersey and Rhode Island to legalize marijuana for recreational adult use in 2018. But reform efforts ultimately stalled and this year's legislative session has already come to an end.
In New Jersey, state leaders ultimately couldn't agree on how far to go regarding social justice components of the bill. The legislation offered one of the most liberal expungements plans in the country by giving past offenders who had been convicted of possessing up to five pounds of marijuana a clean slate.
While New York lawmakers fell short of fully legalizing marijuana, they quickly passed a bill that expanded the decriminalization of the drug. The legislation reduced criminal penalties for marijuana possession and allowed for some cannabis-related records to be expunged.
In Rhode Island, Governor Gina Raimondo included a plan to legalize recreational marijuana in her budget proposal last year. But the plan included some limits, which made the marijuana community conflicted about the idea. But by the time the Legislature's draft budget was released in early June, recreational marijuana was not included. Instead, the plan added six "compassion centers" or medical marijuana dispensaries.
These states can try to legalize marijuana again in 2020 through ballot initiatives. Nearly all of the states that legalized marijuana for recreational adult use have done so through state referendums during an election year.
Congress, 2020 & Beyond
2019 has seen significant traction on Capitol Hill when it comes to marijuana policy reform.
For the first time ever, the House Appropriations Committee passed a spending bill that included protections for banks that service cannabis businesses. The provision, if it remains intact, would only last for the next fiscal year. The Secure and Fair Enforcement (SAFE) Banking Act, which was reintroduced earlier this year and also passed through a House committee, would offer a more permanent solution to banking problems facing the marijuana market.
In February, key protections for state medical marijuana programs were included in the spending bill passed by Congress and signed into law by President Donald Trump.The provisions prohibit the Department of Justice from using federal funds to interfere with cannabis programs in states where the drug has been legalized.
In late June, a group of bipartisan senators introduced a bill to encourage "scientific and medical research on marijuana and its compounds including cannabidiol." While more Americans support legalization and more states have decriminalized the drug, it's Schedule 1 classification by the federal government has made research nearly impossible.
Marijuana reform has also been a key topic for Democrats on the 2020 campaign trail. Nearly every major 2020 Democratic contender has come out in support of full-scale legalization. Some candidates have gone further, proposing expunging past marijuana convictions and investing heavily in communities that were disproportionately affected by the War on Drugs.
Democrats running for president are largely use marijuana reform as a springboard to talk about a variety of social justice issues like race, economic opportunity, criminal justice and the drug war.
The 2020 election cycle will also likely see a number of state ballot initiatives to legalize marijuana for both medical use and recreational use. New Jersey, Nebraska, Florida, Idaho, and Mississippi have already taken steps to get a legalization question on the ballot.
"2020 could be a big year," Hudak said, adding at the very least it will be a year in which the marijuana movement has "steady progress."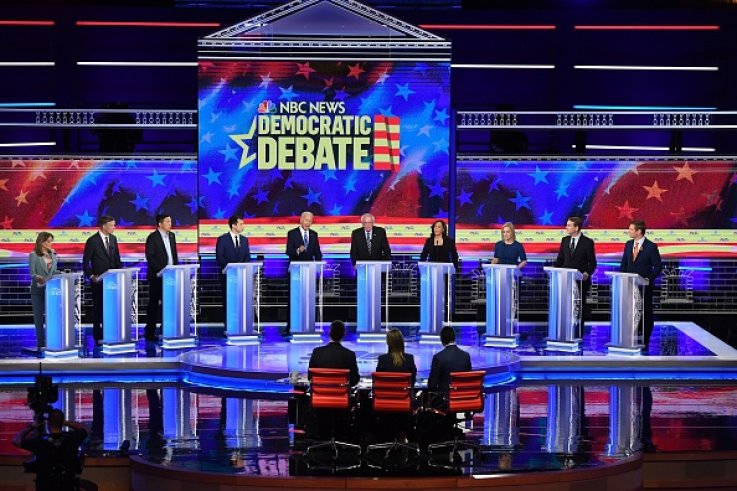 Democratic presidential hopefuls (fromL) author and writer Marianne Williamson, former Governor of Colorado John Hickenlooper, entrepreneur Andrew Yang, Mayor of South Bend, Indiana Pete Buttigieg, former Vice President Joe Biden, Senator for Vermont Bernie Sanders, Senator for California Kamala Harris, Senator for New York Kirsten Gillibrand, Senator for Colorado Michael Bennet, Representative for California's 15th congressional district Eric Swalwell, participate in the second Democratic primary debate of the 2020 presidential campaign season hosted by NBC News at the Adrienne Arsht Center for the Performing Arts in Miami, Florida, June 27, 2019.
Saul Loeb/AFP/Getty Images