SALT LAKE CITY — When the media reports a drug bust by the Utah Highway Patrol, it's typically after a trooper catches someone transporting marijuana or methamphetamine across the state's freeways.
But in 2019, the UHP began keeping track of a different type of seizure due to the number of times troopers were coming across it: THC vaping cartridges.
Last week, the Centers for Disease Control and Prevention announced that THC products appear to be a key factor in the vaping-related lung illnesses being reported across the country.
More than 800 cases have been reported nationwide, with at least 15 reported deaths from the mysterious vaping-related lung injuries. Utah health officials announced Monday that 71 people in the state have been treated with 10 more potential cases under investigation.
According to the CDC, of 514 patients who used vaping products within 30 days prior to the onset of symptoms, about 77% "reported using THC-containing products, with or without nicotine-containing products; 36% reported exclusive use of THC-containing products."
The CDC also found that "nearly all THC-containing products reported were packaged, prefilled cartridges that were primarily acquired from informal sources such as friends, family members, illicit dealers, or off the street."
In Utah, law enforcers have seen a dramatic increase in the number of drug dealers with THC cartridges — something police note is fueled by supply and demand.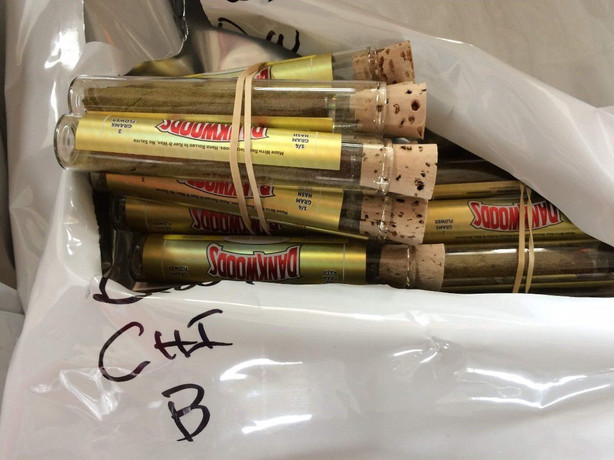 (Photo: Utah Dept. of Public Safety)
From Jan. 1 through Monday, troopers had seized 39,908 THC vaping cartridges on the state's freeways, said UHP Sgt. Nick Street. The majority of those were illegally manufactured, he said.
The breakdown of those seizures is even more eye opening:
During the first quarter of the year — from Jan. 1 to March 31 — Street said troopers seized 3,411 THC cartridges.
But during the second quarter of 2019, the number of cartridges seized made a dramatic jump to 23,845.
Through Monday, troopers had seized 12,652 cartridges during the third quarter of 2019.
"Where we used to see a lot more raw marijuana, (now) when we're finding raw marijuana we're finding these cartridges with it," Street said.
In addition to vaping cartridges, troopers are also finding illegal dab and shatter cartridges, which are more potent forms of THC.
Some illegal cartridges are being made locally, and some are being shipped to the U.S. from countries south of the border, he said.
Police say some will purchase illegal cartridges off the street because they are cheaper than legitimate vaping pens.
As of Sept. 24, the CDC had counted 805 confirmed and probable cases of lung injury associated with e-cigarette product use, or vaping, in 46 states and the U.S. Virgin Islands, including 15 deaths.
×
Photos
Related Stories