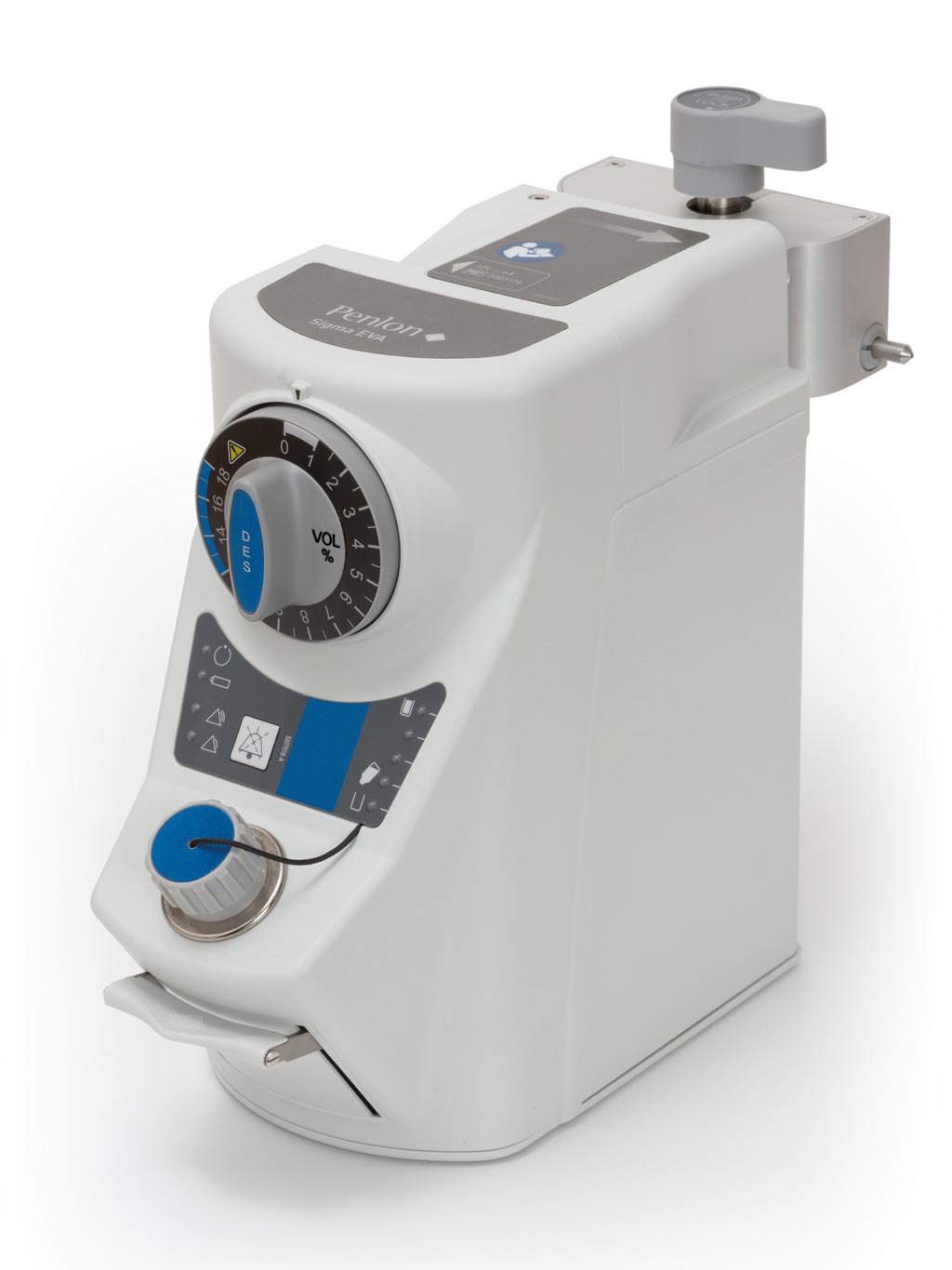 Image: The Sigma EVA desflurane vaporizer for anesthesia (Photo courtesy of Penlon).
A new vaporizer uses a combination of innovative technologies and a patented design to assure accurate Desflurane delivery, even at low flow rates.
The Penlon (Abingdon, United Kingdom) Sigma EVA is specifically intended to provide a better way to deliver of Desflurane, an ether inhalational general anesthetic agent that it is gradually replacing isoflurane for human use, due to its low solubility in blood. Feature of the Sigma EVA include easy installation and use, a fast warm-up time, an improved filling system, and a 30-minute battery backup. It is compatible with Selectatec and Dräger Auto-Exclusion mounting systems, which allows it be fitted to the vast majority of anaesthesia systems.
Desflurane is structurally identical to isoflurane, except for the substitution of a fluorine atom for the chlorine atom on the α-ethyl carbon. It's relatively low boiling point (23.5°C) makes it extremely volatile; but as this temperature is close to ambient operating theater temperature, full vapor saturation cannot be guaranteed if a conventional vaporizer is employed. A vaporizer which heats the agent to 39°C at a pressure of two atmospheres is thus needed to ensure full vapor saturation, together with the addition of a carefully regulated amount of vapor to the fresh gas flow (FGF).
"The Sigma EVA is a real achievement, using a combination of innovative technologies and a patented design that results in a product that delivers accurate agent delivery," said Cliff Kersey, head of new product development at Penlon. "The newest addition to our vaporizer range, the Penlon Sigma EVA is an innovative electronic vaporizer that heats and maintains Desflurane to a constant temperature and pressure, delivering highly accurate output."
Desflurane has the lowest blood/gas solubility (0.42) of all common anesthetic agents, as compared to diethyl-ether (12); halothane (2.3); enflurane (1.9); isoflurane (1.3); sevoflurane (0.67); and nitrous oxide (0.47). The lower blood/gas solubility allows anesthetic alveolar concentration to remain near inspired concentration, permitting a rapid and large change, with precise control, in the anesthetic depth, and early awakening.
Related Links:
Penlon