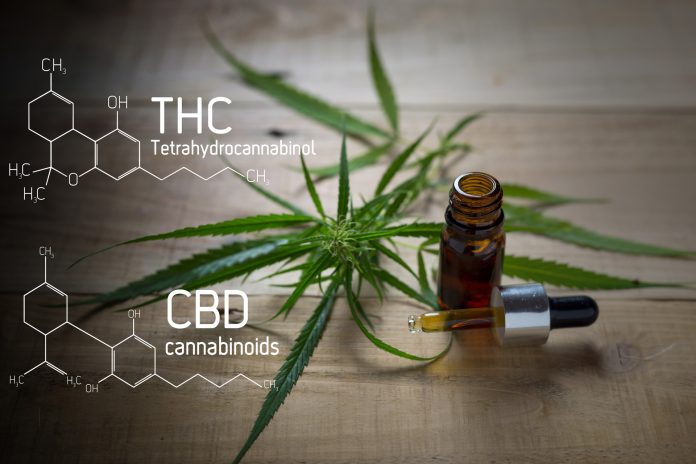 Springfield Public School bus drivers in Missouri received a dire warning last month about using cannabidiol (CBD) oil, possibly causing them to test positive for the presence of THC and lose their job as a result. They aren't alone.
School bus drivers nationwide who live in a growing number of states that authorize medical or recreational marijuana use are pondering this question: Is risking your job as a school bus driver worth trying unregulated CBD oil of an unvalidated potency to alleviate muscle pain, arthritis and other pain-related complaints—when those afflictions can easily be treated with other, safer, FDA-approved products?
Not only that but who actually knows or validates what really goes into those products, how they are made, what companies provided the components or ingredients, their wholesomeness, freshness, absence of impurities such as lead, dust, dirt, pesticides, foreign substances, and bacteria?
There are no good manufacturing practices (GMPs) that require manufacturers or distributors of those products to maintain quality standards, consistent potency and ingredient levels, packaging and distribution records, cleanliness, infection control procedures, and a host of other requirements that all U.S. medical device and pharmaceutical manufacturers are required by federal law to follow.
In a TV report, the Missouri school district officials warned their school bus drivers about the danger of using CBD oil and failing a drug test, which means they would immediately lose their job.
"During their September safety meeting, bus drivers were reminded that any THC in their system would [trigger] a fail," reported local TV station KYNBC. "It's something that local testing facilities say they are getting more questions about."
"We get asked a couple of times a week," said Angela Garrison of Tomo Drug.
Rob Eagleburger, the owner of Missouri Onsite Testing, suggested to KYNBC3 that school bus drivers who try CBD oil for pain relief will find that doing so isn't worth the risk of being fired. He asked, are the "results you're getting from the CBD oil worth [ending] your career?"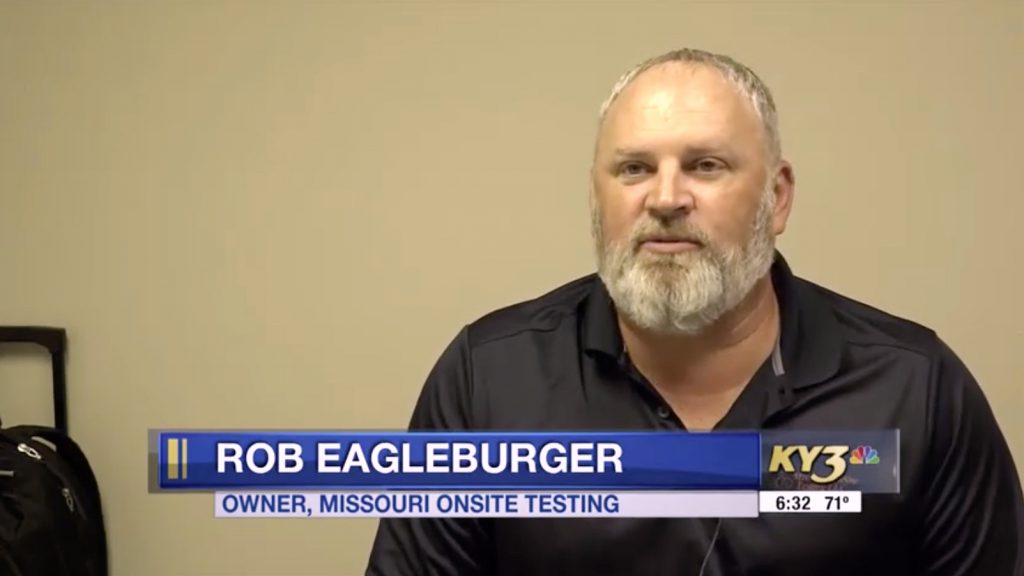 Rob Eagleburger, the owner of Missouri Onsite Testing, commented to KY3 that "[school bus drivers] need to weigh the factors. [Are] the results you're getting from the CBD oil worth your career?"During the same broadcast, Jonathan Shelden, director of transportation for Springfield Public Schools, stressed that school bus drivers must choose to either have clean tests or have no job. Basically, there is no in-between position, from his point of view. Federal law backs up that assertion, as the presence of THC found in a drug and alcohol test is a disqualifying factor for a commercial driver's license, no matter if the state legalized it.
Abstain from Using CBD
At the STN EXPO Reno in July, Gene' Henderson of Henderson Consulting in Colorado discussed the misinformation and subtle issues involved with using CBD and driving school buses at the same time.
Henderson, a drug and alcohol testing expert, commented that she has received special training and oversight—because CBD oil is "wreaking havoc" in the transportation industry.
---
Related: Vehicle Crashes Jump 6 Percent in Recreational Pot States
Related: NHTSA Awards $100K Drug-Impaired Driving Grant
Related: The Application Of Rescue Medications On The School Bus
Related: 6-Year-Old Allowed to Ride School Bus With Cannabis-Based Medicine
Related: How Parents and School Bus Drivers Can Calm Autistic Students
Related: Colorado Court Ruling Stresses Importance of Documenting Employee Illnesses
---
Henderson said that around 1987, the train and airplane industries started detecting significant drug problems nationwide. Henderson recalled that safety concerns for public transportation workers jumped when it was discovered that 90 percent of employees tested positive for the presence of some type of drug—marijuana, amphetamines, cocaine, opiates, PCP, prescription pharmaceuticals and so on.
With that, drug-free workplace programs began gaining popularity.
Henderson asserted that CBD oil is generally not the ingredient that triggers a positive drug test. That's because a typical dosage contains between 0.03 and 0.05 percent of THC—the principal psychoactive ingredient in marijuana that is responsible for the high. But CBD oil manufacturing is not regulated, she pointed out.
Use CBD Oil and You Will Test Positive Eventually
If someone uses CBD oil on a regular basis, she cautioned, they will eventually test positive. That is due to THC being stored in body fat and it taking a month or longer to exit the system.
There are also many cases where the test subject sequesters a small vial or container of "clean" urine to use as a substitute during a random drug test.
Henderson told EXPO conference attendees that merely eating the arms of a gummy bear that contains CBD could result in higher test measurements of CBD reported by her clients.
According to Henderson, there is a measurable difference in drug test rates between CBD and hemp, the nonintoxicating variety of the cannabis plant, as the base material.
Henderson further explained that CBD oil is a cannabis compound that many people claim has medical benefits—but doesn't cause the mental euphoria or body sensations that are attributed to marijuana. She reported that "CBD oil can be sourced from pot or hemp, either one," she reported. "CBD is a schedule 5 chemical and has been decriminalized in 47 states."
Henderson observed that in 2016, marijuana was reported as the No. 1 drug that is abused by transportation workers. On a nationwide average, marijuana was flagged in 2 percent of the population that was tested, ahead of opioids at 1.3 percent, amphetamines at 1.1 percent, cocaine at 0.28 percent and PCP at 0.02 percent. The results were based on nearly 9 million tests in 2016 for the combined U.S. workforce.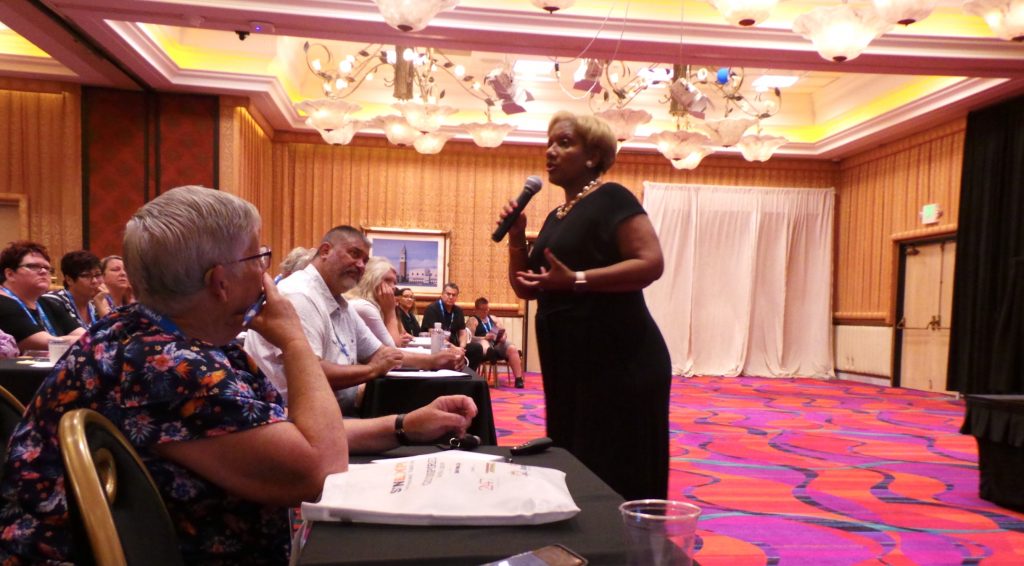 Gene' Henderson discussed the dangers of using CBD oil for pain relief in the transportation industry, at STN's annual conference in Reno in July. (Photo by David George.)
Today, she said, marijuana is the most commonly abused illicit drug in the U.S. and is far more potent than it was in decades past. Henderson stressed that short-term memory for users is negatively affected.
New FMCSA Requirements on Jan. 6
Henderson then reminded her audience that the U.S. Federal Motor Carrier Safety Administration (FMCSA), on Jan. 6, 2020, will require all school districts and companies that employee CDL holders to add the name of anyone who tested positive for marijuana or any of the illicit drugs tested under the DOT guidelines, into the FMCSA's new commercial driver alcohol and drug registry. The same goes for anyone who refuses to be tested, she confirmed, with those drivers being treated as if they submitted a positive test.
In addition, up to a five-year testing follow-up plan developed by an FMCSA-registered substance abuse professional (SAP) will also be required under the new U.S. Department of Transportation guidelines. Plus, transportation employers will be required to check first with the FMCSA registry before the hiring process is concluded.
Last week, FMCSA announced its clearinghouse was open for registration by CDL holders, employers, medical review officers and substance abuse professionals.
To stay updated, she advised, visit www.dot.gov, select Office of Drug Policy and locate "what every employer needs to know about drug testing, to find the latest requirements. As transportation directors, you need to work with the HR department, to validate whether a job candidate is prohibited from filling the position or not."
The final word is that transportation employers must check the registry, she specified.
When it comes to usage recommendations, Henderson said her best advice is to simply say no to CBD oil in any form, because it does run the risk of testing positive for THC.
At 15 nanograms or greater, that person is going to lose his job, she pointed out. And because of the far-greater potency of marijuana today, that means that it takes eight to 10 weeks to reach the point where the drug has cleared the person's system—which means measurable amounts may still be present if you are unexpectedly drug tested during that time period.
"[In contrast] opiates are in and out of your system in 48 hours," she noted. There is an epidemic with opioid use today and how the DOT test for opiates has changed, effective January 2018. With this change, the number of positive opiate tests has increased."
Henderson recalled that many of her clients have reported attending a potluck party, for example, and the food contained THC. "There are cookies that are very potent and causing people to hallucinate," she explained. "You are playing with your livelihood, by not knowing what is in the food being served. I can't reiterate enough; the medical review officer has the final say on whether CBD oil caused the positive test."
Unfortunately, the technology to determine whether or not a positive test is caused by CBD vs. THC is not yet available, she reported.
If a school bus driver is out on medical leave, and their name comes up for a random test, during that quarter a school district has 90 days to test them, once when they return to their pool, Henderson noted. If you as the employer have knowledge that the driver is using medications such as opiates or THC, you as the employer cannot wait for the driver to clean up before you test them. You have to test them immediately after their return. "That person must have a negative test upon their return, or that person cannot be allowed to return," she confirmed.
"When I do driver training, there is a list of drugs that drivers cannot take, which the driver should [bring] with to his doctor before he is prescribed a drug that is on the list, such as oxycontin [and stronger drugs]," she advised.
MROs Cannot Accept CBD Oil Excuse
Medical review officers (MROs), she reminded conference-goers, will not accept CBD oil as a valid medical explanation for a positive DOT drug test. In addition, trace amounts of THC may show up in the drug test.
She concluded by recommending that employees be notified of the organization's drug test policy, so that drivers know that claiming the use of CBD is not an excuse that would be accepted by the MRO.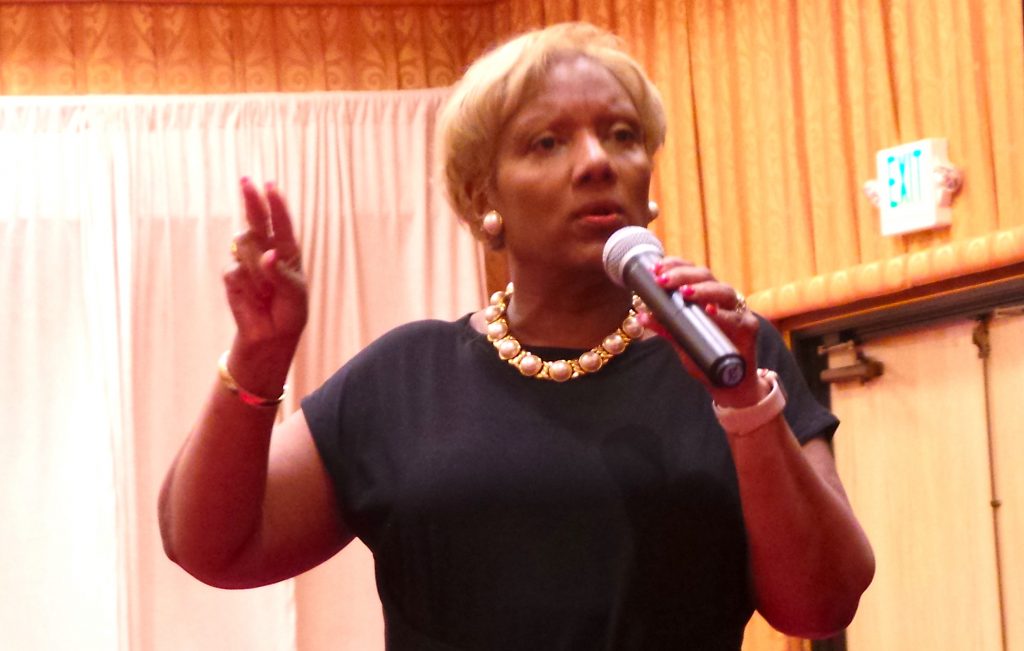 Gene' Henderson reported that "If you are using CBD oil on a regular basis, you will eventually test positive because it is stored in the body fat."