Skip to:
Cannabidiol (CBD) is the second most common active ingredient found in the cannabis (marijuana) plant. CBD can now be readily obtained in most US states. However, the government's position on it is confusing as all states having legalized it, but with varying degrees of restriction.
In December 2015, the US Food and Drug Administration (FDA) relaxed regulatory requirements to make it easier for researchers to conduct trials of the substance.
Image Credit: ElRoi / Shutterstock
Evidence of CBD health benefits
CBD has been promoted as beneficial in treating a range of health issues including anxiety, insomnia and chronic pain caused by conditions such as arthritis.
However, the most robust evidence yet is for its effectiveness in treating severe and rare forms of epilepsy, including Dravet syndrome and Lennox-Gastaut syndrome.
These types of epilepsy are usually refractory, meaning they are notoriously difficult to treat and do not usually respond to medications. However, studies have demonstrated that CBD use is associated with decreased seizure frequency.
CBD reduces "drop seizure" frequency in Lennox-Gastaut syndrome
Lennox-Gastaut syndrome develops during early childhood and is characterized by learning difficulties, delayed development and so called "drop seizures," where a person falls to the floor. A range of antiepileptic medications are used to treat the condition, but patient response is often poor.
Recently, the first cannabis-derived liquid formulation, Epidiolex, which contains CBD, was approved by the FDA for the treatment of both Lennox-Gastaut syndrome and Dravet syndrome.
In a 2018 study published in The New England Journal of Medicine, researchers randomly assigned more than 225 participants (age 2 to 55 years) with Lennox-Gastaut syndrome to receive different doses (10 mg or 20 mg per kg body weight) of either cannabis oil or a matching placebo.
The participants, who were already taking standard antiepileptic medications, were experiencing at least 2 drop seizures a week.
Cannabis oil reduced the frequency of drop seizures in all dosage groups over the 28-day study period. The drop rate fell by around 40% among those who received the oil (41.9% in the 20 mg group and 37.2% in the 10 mg group), compared with a 17.2% reduction among those who received placebo.
CBD bioavailability affects absorption
CBD has a complex pharmacokinetics profile. It has a low bioavailability that is attributed to its high lipophilicity, poor solubility and first-pass metabolism.
Bioavailability refers to the rate at which a substance is absorbed by the bloodstream. Taking CBD orally can impact the bioavailability of the active ingredients because the digestive system absorbs them before they reach the bloodstream.
The first pass effect or first pass metabolism refers to when digestive enzymes act on CBD, altering its structure and reducing its concentration before it reaches the circulatory system.
Certain foods can affect CBD bioavailability
In a 2013 study published in the European Journal of Clinical Pharmacology, researchers assessed the effect food had on single-dose bioavailability of a delta-9-tetrahydrocannabinol (THC) and CBD oromucosal spray among twelve healthy men.
The study found that bioavailability was around four times higher when the spray was used following a meal, compared with on an empty stomach.
A similar food effect was also reported in a 2018 study published in CNS Drugs for the currently-approved Epidiolex.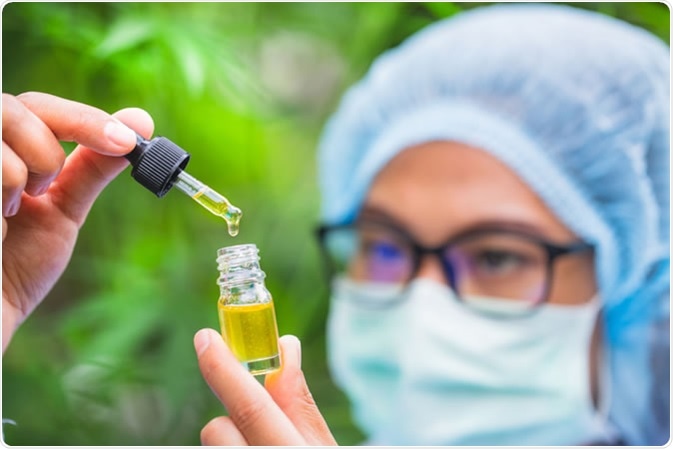 CBD Oil. Image Credit: Tinnakorn Jorruang / Shutterstock
As reported in the journal Epilepsia earlier this year, such findings prompted University of Minnesota researchers to investigate the effect of food on the pharmacokinetic profile of purified CBD capsules in adult patients with refractory epilepsy.
Patients at the MINCEP Epilepsy Care Clinic received a single dose of 99% pure CBD capsules under fasting conditions (no breakfast) and fed conditions (standardized fatty breakfast containing 840-860 calories). Blood samples were taken under each condition between 0 and 72 hours after CBD administration. Plasma concentrations of CBD were measured using a validated liquid chromatography‐mass spectrometry assay.
The study showed that, compared with fasting, taking CBD with the fatty breakfast increased the concentration of CBD in the body four-fold and increased the maximum blood concentration of CBD by 14 times.
The authors say a fed state can lead to longer gastric transit time and increased dissolution for highly lipophilic drugs. This, in turn, increases absorption and bioavailability of such compounds.
Furthermore, increased bile secretion after a high‐fat meal can also increase solubility and improve the absorption of highly lipophilic drugs.
The authors conclude that CBD should be taken with food to ensure maximum absorption and that future studies investigating the efficacy of CBD should take into account food effects.
The team acknowledges that people's diets vary in terms of fat intake and that taking CBD while on a low-fat diet may reduce the degree to which CBD is bioavailable. By contrast, people following a ketogenic diet for example, which is a low-carb, high-fat diet, may benefit from a higher and more consistent increase in CBD bioavailability.
Further Reading