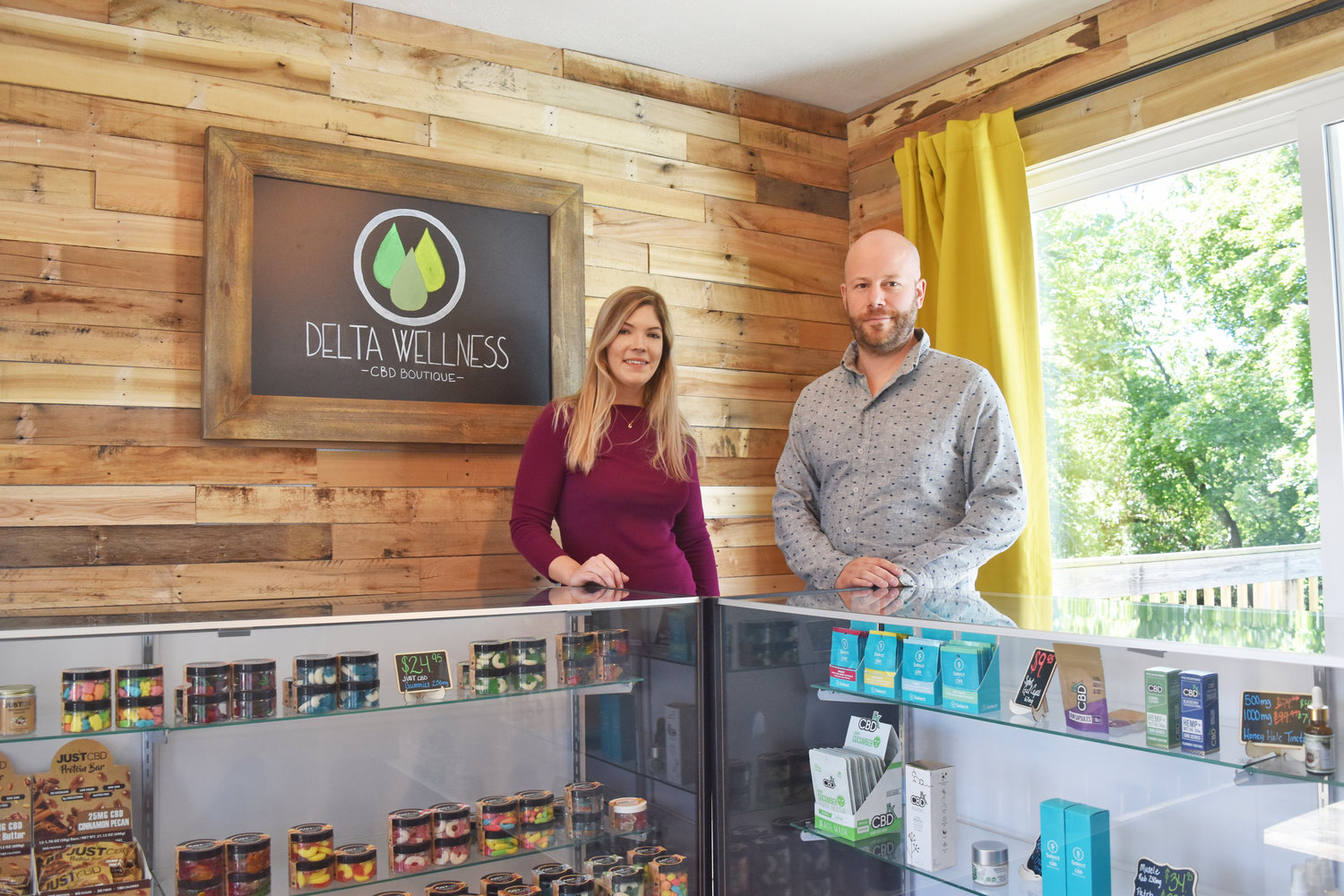 Dennis Burck
Outside of the smoke shop, CBD-exclusive stores are on the rise in Lansing. The latest entry is Delta Wellness CBD Boutique, a project by co-owners Devin Comstock and Mike Thackeray to bring the touted health benefits of the substance to the west side.
The store stocks CBD bath bombs, tinctures, topicals, patches, edibles, capsules and even dog treats.
"I've had my eye on the cannabinoid industry for a while. I did a lot of research," Thackeray said. "We offer clients a place to come in, be educated in a clean environment to learn and purchase the product."
The biggest thing people have yet to learn is that CBD doesn't get you high, he added.
"I run into a lot of people who say I don't want to get high and we have to explain to people it is not psychoactive."
CBD, unlike its psychoactive cousin THC, can be derived from refined oil of the hemp plant. The substance was formally legalized in Michigan in June 2018.
"The stigma is changing now with the research and what it is getting done," Comstock said.
Comstock worked in the pharmaceutical industry for 10 years. She said it is important for people to be aware there are more natural alternatives out there than prescription medications.
"In my opinion, the less unnatural things in my body, the better. An alternative to pharmaceutical drugs is great, and I'm glad more research is being done on it to address this issue," Comstock said.
According to third-party testers EVIO Labs and Desert Valley Testing, Delta Wellness' two main brands Secret and Just CBD contain the proper amount of CBD for what is advertised per dose.
"Transparency is something we looked at when deciding what to carry. This company is very transparent to the consumer about what is in their products, what you're getting."
Several CBD salesman approached Delta Wellness and walked out when asked about CBD levels and test results, Thackeray said.
"The market was flooded with not the best quality products," he added.
Amid any new market craze, many companies look to jump in on the trend. Quality Dairy, Family Video and Better Health Market all stock CBD options. Preuss Pets stocks CBD products for dogs.
The bulk of the store's products are not smokable or vapable.
"A lot of people initially thought it was smoking and vaping CBD. There are so many ways to use it depending on what you're using it for," Comstock said.
The pair would like to retain more control of the products they stock and are working with a Michigan hemp farm on a farm seed-to-sale system.
"Our end goal is to have all of our products and brands manufactured in Michigan," Thackeray said.
Delta Wellness CBD Boutique
Mon.-Sat., closed Sunday 11 a.m. to 7 p.m.
610 S. Waverly Road (517) 536-1558