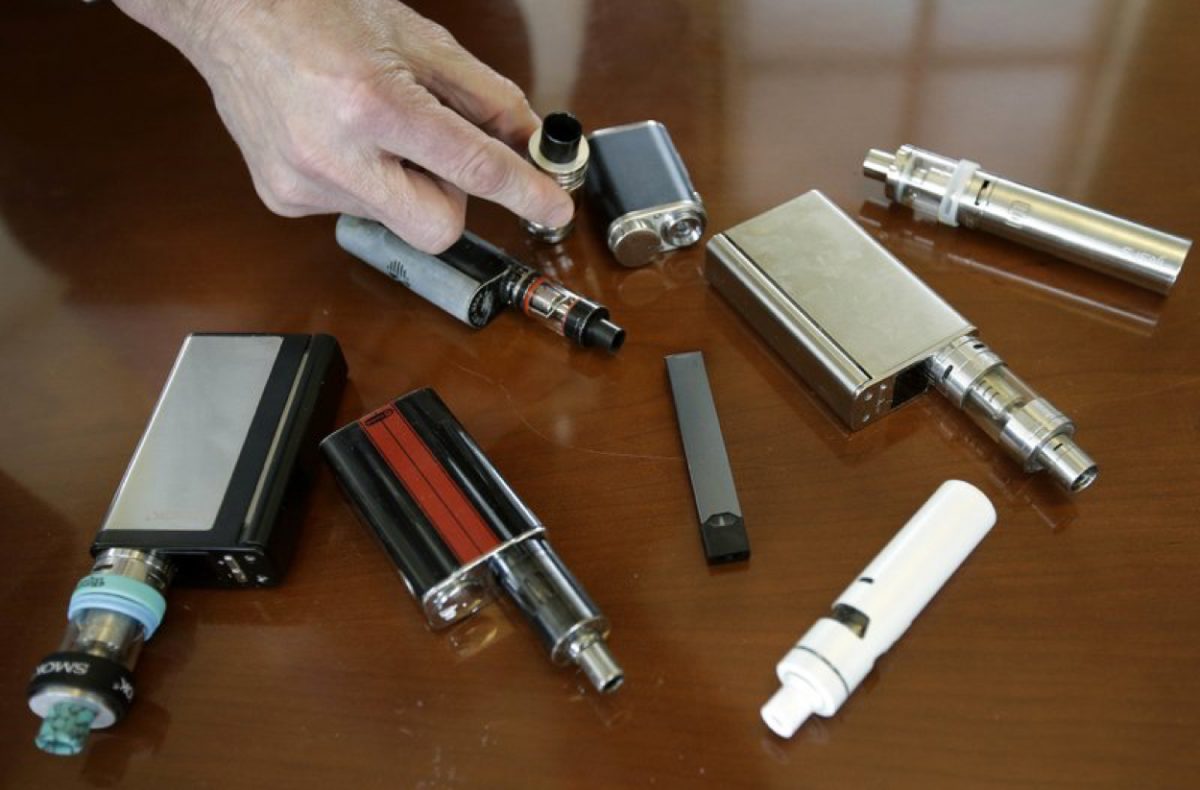 Main psychoactive agent in cannabis may be related to vaping deaths and lung injuries, says CDC
The US Centers for Disease Control and Prevention (CDC) have warned that the current spate of deaths and serious lung injuries related to vaping is likely related to products containing Tetrahydrocannabinol (THC) — the primary psychoactive agent in cannabis.
.@CDCMMWR report incl. recommendation that people not use e-cigarette, or vaping, products that contain THC. Because specific cause(s) of #lunginjury are not yet known, people should consider refraining from use of e-cigarette, or vaping, products. https://t.co/0pAuq0P316 pic.twitter.com/jaGu1eANse

— CDC (@CDCgov) October 28, 2019
Of the 19 deaths where the CDC could obtain data on what substances were used, some 84 percent reported using THC-containing products, with 63 percent reporting that the victim had used THC-containing products exclusively.
With 34 EVALI (E-cigarette or Vaping product use-Associated Lung Injury) deaths and 1,604 EVALI cases reported to the CDC to date, the explosion in the number of fatalities and patients experiencing vaping-related health medical issues has proved to be a puzzle for researchers. However, a new report by the CDC indicates that THC, a cannabinoid, might well be responsible, and not nicotine.
OUTBREAK UPDATE: As of 10/22, a total of 1,604 cases of lung injury associated with use of e-cigarette, or vaping, products were reported from 49 states (all but Alaska), DC, & USVI. 34 deaths were confirmed in 24 states. Get the latest info at https://t.co/6E0qEUzn9s pic.twitter.com/5rexxLlGf4

— Dr. Robert R. Redfield (@CDCDirector) October 24, 2019
Although most EVALI cases occur in younger men, the report stated that "… Patients with EVALI who died were older than the overall population of EVALI patients."
Most patients with EVALI are young, white males, the report states. The report states that "Among patients with available data, 79 percent were under age 35, 78 percent were non-Hispanic white, and 70 percent were males. Additionally, about half of the cases, and two deaths, occurred in patients under age 25 years."
The Trump administration has already proposed a ban on flavored e-cigarettes. As public awareness about the scale of the problem grows, support for such a ban could help curb the increase in vaping and e-cigarette use among teens and young people.
77% of President Trump's voters support his plan to clear the market of all flavored e-cigarettes (via @MorningConsult). This plan is a win for kids and a political win and should be fully implemented.https://t.co/id9yk4QQEw

— Campaign for Tobacco-Free Kids (@TobaccoFreeKids) October 29, 2019
The Director of the CDC, Dr. Robert R. Redfield, said, "It is evident from today's report that these lung injuries are disproportionately affecting young people. As CDC receives additional data, a more defined picture of those impacted is taking shape. These new insights can help bring us a step closer to identifying the cause or causes of this outbreak."
However, Mitch Zeller, Director of the Center for Tobacco Products at the US Food and Drug Administration, has warned that data on THC use may not be completely reliable, as it relies on self-reporting. "Remember that these are self-reports," cautioned Zeller in a briefing to reporters on Oct. 25. "It's the person saying, 'I only used the nicotine-containing products.'"
Zeller pointed out that teens or persons living in a state where the use of THC-containing compounds is illegal may be reluctant to report using such products.
"The data do continue to point towards THC-containing products," said CDC Deputy Director Dr. Anne Schuchat at the same press briefing. Schuchat also pointed to the role that online purchasing of vaping and e-cigarette products may be harming young people. "A report in the MMWR (Morbidity and Mortality Weekly Report) from Utah's investigation found that most patients there had gotten THC-containing vaping products from informal sources or online, rather than from brick and mortar stores or dispensaries," she said.
By preventing kids from becoming established smokers, FDA's "The Real Cost" campaign will save them, their families, and the country more than $53 billion by reducing smoking-related costs like medical care, lost wages and increased disability. https://t.co/N5Ouyr6Q4B pic.twitter.com/zIcTJaI4IU

— FDA Tobacco (@FDATobacco) October 25, 2019
According to the CDC, "… the only way to assure that you are not at risk … is to consider refraining from use of all e-cigarette and vaping products. Adults addicted to nicotine using e-cigarettes should weigh all risks and benefits, and consider utilizing FDA approved nicotine replacement therapies. They should not turn to or resume using combustible tobacco."
As the CDC warns, "There is no safe tobacco product."