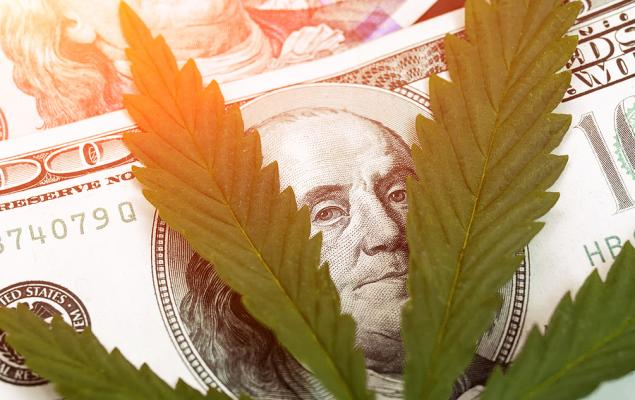 The marijuana fervor, which started last year following the Canada legalization, faded in recent months with many stocks losing two-third or more of their value. A wave of disappointing earnings also added to the gloom. Additionally, the industry was hit early this week following the U.S. Food and Drug Administration's warning that cannabidiol (CBD) can cause liver injury and other damage to the human body (read: Should You Buy the Dip in Marijuana ETFs Ahead of Earnings?).
However, the beaten down prices could be a solid entry point for investors for the holiday season. This is especially true as cannabis spending rises over the Thanksgiving holiday period. Data from Marijuana Business Daily showed a sharp climb in cannabis sales on the so-called Green Wednesday, the day before Thanksgiving, as well as on Black Friday last year. Data from cannabis research and analytics company Headset showed a 63% boost in spending on Green Wednesday last year, while Jane Technologies, an online marketplace, put the number at 62%.
As such, cannabis ETFs gained on the expectation of a weed-spending rise on Green Wednesday. Investors could capitalize the opportune moment with any of the following ETFs:
ETFMG Alternative Harvest ETF (MJ – Free Report)
This is the first and world's largest ETF focusing on the global cannabis/marijuana industry. It tracks the Prime Alternative Harvest Index, designed to measure the performance of companies within the cannabis ecosystem, benefiting from global medicinal and recreational cannabis legalization initiatives. The fund holds 38 securities in its basket with Canadian firms making up 55% of the portfolio, while American firms comprise 27%. The ETF has AUM of $687.3 million and trades in a solid volume of around 626,000 shares. It charges 75 basis points in annual fees and gained 1.7% on the day.
Global X Cannabis ETF (POTX – Free Report)
This ETF seeks to invest in companies across the cannabis industry and tracks the Cannabis Index. It holds 26 stocks in its basket with Canadian firms accounting for 81.7% of assets while Unite States takes 10.3% share. The product has accumulated $4.5 million in its asset base within two months of debut and trades in average daily volume of 15,000 shares. Expense ratio comes in at 0.50%. POTX was up 2.7% on a day (read: Can Bill Hopes Relieve Earnings-Induced Pain in Pot ETFs?).
AdvisorShares Pure Cannabis ETF (YOLO – Free Report)
YOLO is the first actively managed ETF with a dedicated cannabis investment mandate domiciled in the United States. It seeks long-term capital appreciation by investing in both domestic and foreign cannabis equity securities. The fund holds a basket of 35 stocks with Canadian and American firms making up for about 47% each. It has gathered $43.8 million in its asset base since its debut in April. The ETF charges 74 bps in annual fees and trades in average daily volume of 55,000 shares. It rose 1.9% in yesterday's trading session.
The Cannabis ETF (THCX – Free Report)
This ETF offers investors exposure to a basket of stocks that are expected to benefit from growth of the hemp and legal marijuana industries. Holding 34 stocks in the basket, Canadian firms make up for 62% share while Unite States takes around 24% of assets. The fund has amassed about $17.1 million in AUM and trades in a good volume of about 58,000 shares per day, on average. It charges 70 bps in annual fees and gained 1.4% on the day.
Amplify Seymour Cannabis ETF (CNBS – Free Report)
With AUM of $5 million, CNBS is an actively managed portfolio which allows the ETF to adjust its holdings on a daily basis. It invests in 80% of its assets in securities of companies with 50% or more of their revenues from the cannabis and hemp ecosystem. The fund holds 31 securities and charges 75 bps in annual fees. It trades in average daily volume of 10,000 shares and gained nearly 1% in yesterday's trading session (read: Marijuana ETFs Bounce Back: Can the Rally Last?).
Cambria Cannabis ETF (TOKE – Free Report)
This is also an actively managed ETF and seeks to invest in approximately 20 to 50 of the top companies with exposure to the broad cannabis industry based on Cambria's determination as to their exposure to the industry. It holds 34 stocks in its basket with Canadian firms making up for 61.7% of total assets while United States taking 27.1% share. The fund has $10 million in AUM and average trading volume of 15,000 shares. It rose 1.3% on the day.
Want key ETF info delivered straight to your inbox?
Zacks' free Fund Newsletter will brief you on top news and analysis, as well as top-performing ETFs, each week. Get it free >>