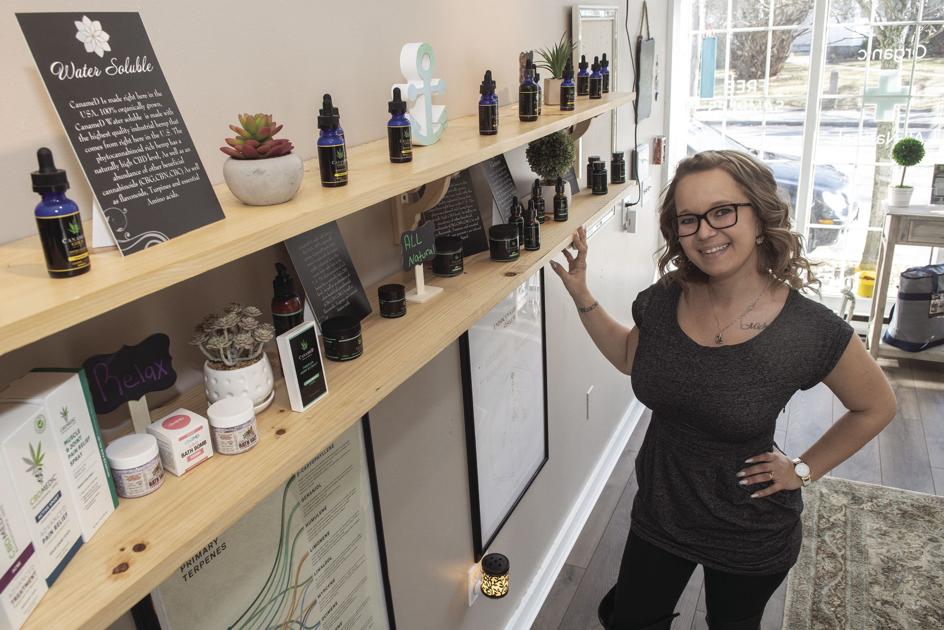 SOUTH KINGSTOWN, R.I. — A sign hanging on a wall in Eva Lanoue's new CBD Boutique business offers a simple and comforting statement of the shop's mission.
"We're here to help you heal," is the message formed by the sign's block letters. It's a message Lanoue carries with her, and it's one the South Kingstown native searched for when she was recovering from a devastating car accident.
The boutique, tucked into a small area next to the Thai restaurant at 253 Main Street, opened Dec. 13 and had a ribbon-cutting ceremony Jan. 13. It's the first dedicated CBD store in the area, she said.
"We've had a lot of people come in that are really excited," she said. "The saying is that in South County, no one likes to go north of the Tower, and there's been a lot of interest."
Inside, the walls, shelves and counters resemble those of an organic health store. They feature CBD products that are organic, all natural, non-genetically modified, and that are gluten-free.
CBD, shorthand for cannabidiol, has blossomed in the last few years as an alternative to pharmaceuticals such as opioids and other addictive painkillers. It's also used as an anxiety reliever, Lanoue said. But it's not marijuana and doesn't have the same effects as the drug, she said.
"I want that stigma that it's pot, or marijuana, taken away, because it's completely different. I want to educate people about it," she said.
Instead, it's a chemical compound derived from hemp, and is a naturally occurring substance that's used in products like oils and edibles to impart a feeling of relaxation and calm. Importantly, CBD does not have the same psychoactivity as THC, the active ingredient in marijuana. CBD derived from hemp is legal at the federal level, and some of the products Lanoue's store offers contain THC but at less than the 0.3 percent federal legal limit, she said.
CBD can be ingested in several ways, including as capsules, in food or drinks, as gummies, or topically as an ointment.
"We also have people with gastro-intestinal problems, cancer patients, and people with mental health issues, and people who take it just for general wellness," she said.
Because it's not regulated, Lanoue can't make medical claims that CBD works, or that it's a cure-all.
"But based on my experiences and my other customers, this is what they found helps," she said.
Lanoue's journey to opening a CBD shop began about 18 months ago. She was in a car accident and broke two vertebrae in her back, leaving her in debilitating pain.
Treatment included a mix of several different and potent medications, such as Vicodin and Percocet to Valium and Xanax.
"I couldn't sleep, I couldn't eat. I could no longer function like a healthy 27-year-old should," she said. "I lost 50 pounds inside of a month and refused to do anything but sleep a vast majority of the day. My husband started noticing these horrible changes and we decided to find an alternate way to help me ease my pain."
The couple studied and Lanoue tested 36 different CBD companies until finding one that worked perfectly for her.
"My pain went away, I felt my mental health become better every day," she said. "My husband and I decided that more people could possibly see the same if not better results as well. We wanted to help. We branded CanameD, and haven't looked back since."
Her husband Michael opened a CBD store in Warwick, which grew and prompted Lanoue to try one in South County.
Lanoue cheerfully said she considers the new store her second home. She's there seven days a week, offering information and guidance about the various CBD products for sale, as well as some free samples for the curious.
"I don't think after this I could do anything else," she said. "I love this, and I love helping people."