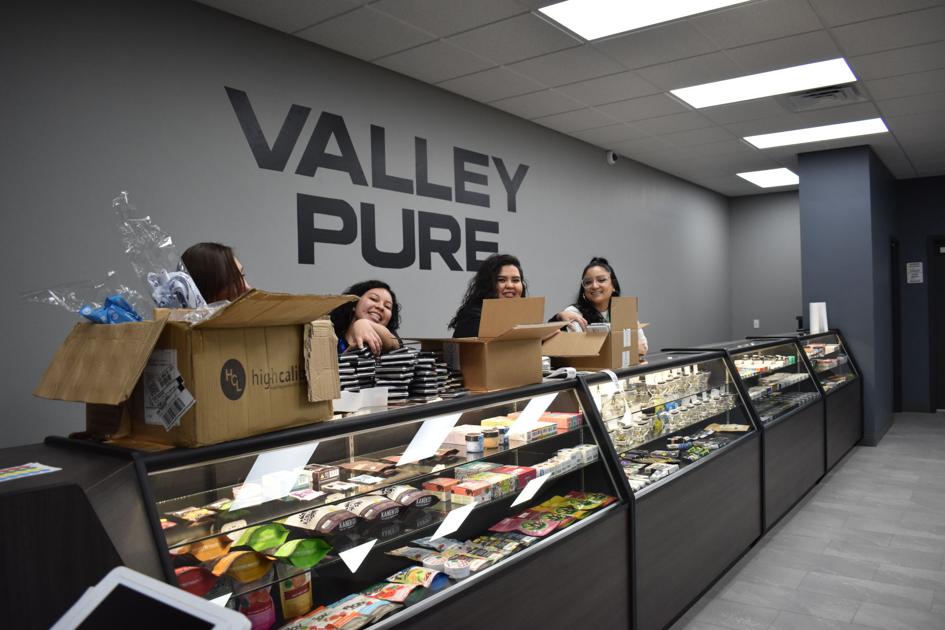 There were about a dozen men, and at least one woman lined up outside of Valley Pure Cannabis dispensary well before the doors opened at 10 a.m. on Friday, February 21, in Lindsay, at 133 W. Honolulu Street, the site of the old Lindsay Chamber of Commerce.
Inside the brand newly painted elegant dispensary, with gray walls and glass cabinets with many pull out drawers behind the counters, there was a large array of products.
This is the third Valley Pure Dispensary to open, and all kinds of products were available for customers. There were CBD and THC vaping pens, in various strengths and flavors, to all kinds of edibles, and much more.
Customers could find just about anything they needed or wanted, and the packaging and variety of products was colorful and interesting.
A vendor from Cookies, a Cannabis company in California, said he was excited to be at the shop, supporting Valley Pure, and the City of Lindsay. He said, "There are many people in the industry who grow the product, design the packaging, do the marketing, and production of the various types of products available, like vaping pens, salves, edibles, and the actual buds of the cannabis plants, and much more."
The owners of the store, or executive team are Wes Hardin and Tony Caudo, and there are 13 employees who sprang into action the minute the doors of the store opened. But before anyone was allowed in, they handed over their identification, and medical cannabis card if they had one, which was efficiently stored on the dispensary database.
"We are excited to bring much needed revenue to the City of Lindsay and jobs. At this point we have 13 employees, and we carry 45 very popular brands of cannabis merchandise," said Hardin and Caudo in a statement. The men opened the first recreational marijuana dispensary in Tulare County in Woodlake in 2018 according to a Visalia Times Delta article on November 14, 2019. Hardin also said they were starting a reality TV series about their business and had a videographer from Visalia filming the grand opening.
One of the employees, Jenna Reed, said she had worked in retail before, but the VP employee team spent about a month learning about the products and how to sell them.
An older man, who was looking at all the new products asked for help from the staff, and said, "I've been waiting for this store to open for two months. I use edibles because they are easier to take. And I don't have to worry about smoking. It really helps me with my leukemia," Kevin explained, "It really makes such a difference."
Another customer said, "This store is great for the community. The layout and location is very convenient."
Dustin, a local man, said, "We love this store. And we are happy that Lindsay allowed the dispensary to be opened."
"This is one of the best things they've brought to the community," said Monica Wilson, "It's going to bring tax revenue to the schools and help the students."
Larry Twittey said, "The new Valley Pure store is nice and clean. Twittey sells hot dogs, Polish dogs and bratwurst to the Lindsay lunch crowd in Lindsay on Wednesday, and also in Farmersville. His stand was set up to sell munchies to the store customers.
Caudle, Hardin's partner, said, "This is very exciting. We are happy to be here in the City of Lindsay. This has been a long time coming. It took about six months for the total process to open the store, and we completely refurbished and rebuilt the old Chamber of Commerce building.
"We expect to bring in about $300,000 minimum in taxes for the City, and we are looking forward to opening more stores."
Caudle said it's believed CBD or marijuana infused edibles help with pain, increase appetite, and allow someone to relax and get proper rest if they have cancer, or are ill with a disease.
There are already three stores in the Central Valley, so the Valley Pure dispensary empire is well on its way.