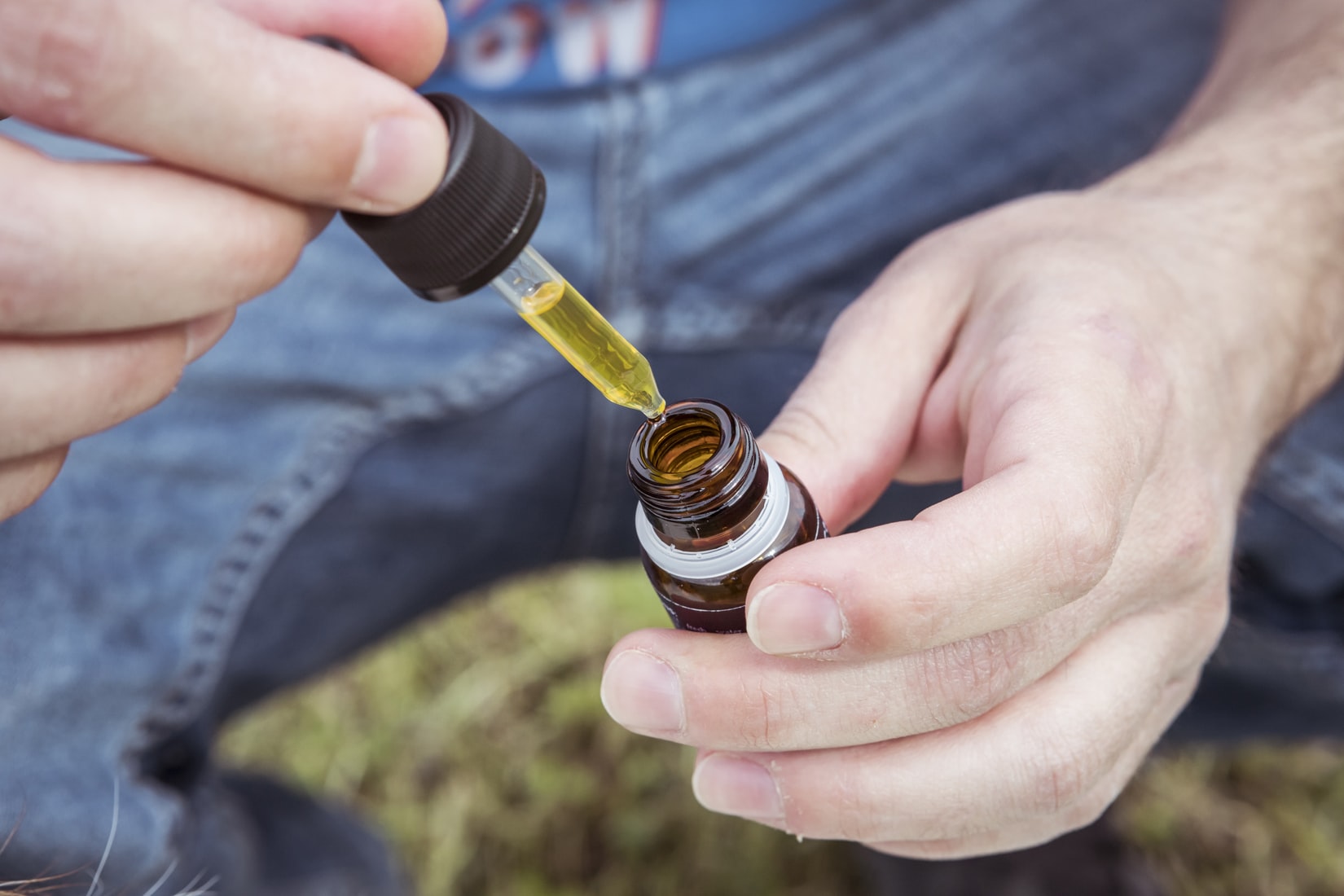 By Alison Brimley | [email protected]
Alan Peterson waits behind the counter at his cozy West Jordan shop. When a customer enters and he asks how can help her, she explains she suffers from foot pain—plantar fasciitis—that prevents her from running. "Running is my outlet," she said.
Like a doctor and a pharmacist rolled into one, Peterson both determines and dispenses the treatment. But unlike a pharmacist, all his prescriptions are all built around a single ingredient: CBD.
Peterson, who owns and operates American Shaman in West Jordan, offers the customer a sample. It's a topical cream containing CBD, which she applies to her foot. He said she'll feel it working within five minutes. After a few minutes of chatting he checks in: "How's that feeling?"
"You know, so far I'm not—" she begins, but stops herself, wiggling her foot. "Hm. Maybe it is working."
CBD retailers and advertisements have popped up everywhere, promising pain relief and relaxation with almost no side effects. You can buy anything from acne treatment to dog treats to chocolate bars containing CBD. For people eager to give up dependence on pharmaceuticals, or are disillusioned with traditional medicine, CBD can feel like a miracle cure. But because it's sometimes marketed as just that—a miracle—others are wary of its efficacy.
CBD stands for cannabidiol, a chemical found in hemp. But unlike the other major component of hemp, THC (tetrahydrocannabinol), it can't get you high. CBD is said to have relaxing effects. Tannon Dowd, manager of Dave's Health and Nutrition in West Jordan, said most of his customers use CBD to "chill out or help pain."
But for many, its association with marijuana gives CBD a bad name. Peterson has many repeat customers, but getting first-time customers is difficult. When they shop at his store, people tell him, "My friends won't come in here."
Peterson can list off the ailments CBD has helped customers with: anxiety, autism, seizures, Tourette's, neuropathy, arthritis, fibromyalgia. Customers purchase topical cream to apply to bug bites and bruises, water-soluble hemp oil to dissolve in smoothies, and tinctures to drop under the tongue. He carries probiotics, capsules, massage oils, face cream, bath bombs, soap and under-eye serum.
Peterson is a CBD evangelist for good reason. For over 20 years he used antidepressants daily. Not long ago, he started using CBD for arthritis in his hands. He noticed the "water-sol" helped him focus, and as he started reading up on it, he learned others had "weaned themselves" off of antidepressants by taking CBD. Eventually he was able to quit antidepressants altogether. He hasn't taken one since May 2019.
He really noticed the difference when he went to a Trans-Siberian Orchestra concert with his wife. "I've been married to my wife for 17 years; she's never seen me cry," Peterson said. But at that concert, he was moved to tears by the music. "My wife looked over, and she's sitting there going 'Who are you?'"
Peterson's brother, who has stage 4 prostate cancer, goes to work daily with the help of CBD. His grandson, who has ADHD and was frequently kicked out of school last year, hasn't had such discipline issues since starting CBD.
CBD has allowed Peterson to live more freely because he's not dependent on "Big Pharma" or over-the-counter medications. "I'm not a zombie anymore," he said.
The 2018 Farm Bill, which legalized the growth of hemp across the country, has played a major role in CBD's popularity. It's "opened the floodgates to a plant with hundreds of unique chemicals that have not been fully explored," said Mitch Westmoreland, a Ph.D. candidate in Utah State University's crop physiology program.
Because CBD was tightly regulated before 2018, it hasn't been easy for researchers to get their hands on it. So, while it's sometimes presented as a cure-all, much of the evidence for its healing properties is still anecdotal. One thing CBD is clinically proven to treat is epilepsy. Outside of this, individuals report improvements in many areas of life, but scientifically, we still don't understand much of what CBD does or how it does it.
The hope that CBD can help "get people off opioids" motivates Peterson. In 2016, his daughter died by suicide related to opioid addiction. Evidence suggests that CBD might not only relieve pain more safely but also treat existing opioid addictions.
Aside from its medicinal purposes, hemp also has a long history of use in rope, clothing and more. Because of Farm Bill, Utah farmers are now growing hemp for the first time. But the market is still "very volatile," Westmoreland said. The price of hemp at the beginning of the 2019 growing season was around $20 a pound. (By comparison, alfalfa went for $0.10 a pound.) But the market was soon flooded, as supply outpaced processing ability. The price today sits around $5 a pound.
"I think a lot of people got excited and expected it to be a way to make a quick buck, but it hasn't turned out that way so far," Westmoreland said.
The explosion in popularity comes with risks for consumers, too, since CBD producers often get away with cutting corners. Dowd warns that many use "crappy, cheap and easy" means of extracting CBD from the hemp plant, using solvents like butane rather than cleaner methods like CO2 extraction. These cheap products are "still CBD, but it's also got a lot more than that." Some add sugars to make the product taste different. Some manufacture synthetic CBD.
American Shaman is part of the US Hemp Authority, meaning it has a seal of approval from the government that took them four months and a third-party investigation to earn.
Dowd said Dave's "sticks to the big players in the game." These companies are transparent in their manufacturing and have rigorous quality assurance processes.
Buyers of CBD, Dowd says, need to "ask a lot of questions" about where their product is coming from.
"There is a lot of misinformation in the world of cannabis," said Westmoreland. His hope is that with the legalization and increased usage of hemp, we can "phase out the bad information and replace it with evidence-based, rigorously tested information."
In his own unofficial way, Peterson is conducting research on his customers. He checks in with them often, tracking how they respond to his products. After 30 days of CBD, one diabetic customer's blood sugar is going down. Another was on four shots a day of insulin, now down to one shot a day.
But he's hesitant to ascribe all these benefits to CBD itself. "Is it because CBD is working or is it because she's getting out and doing more?" he wonders. "I don't know." When one customer asked if CBD could help him lose weight, Peterson said, "People take it, and they feel like they want to get up and go do something now instead of sitting on the couch. So yeah, it probably could help you lose weight."
For Westmoreland, his hope for the future of CBD is simple: "I hope science wins."
As for Peterson, he said, "It just makes me feel good to see people feel a difference."