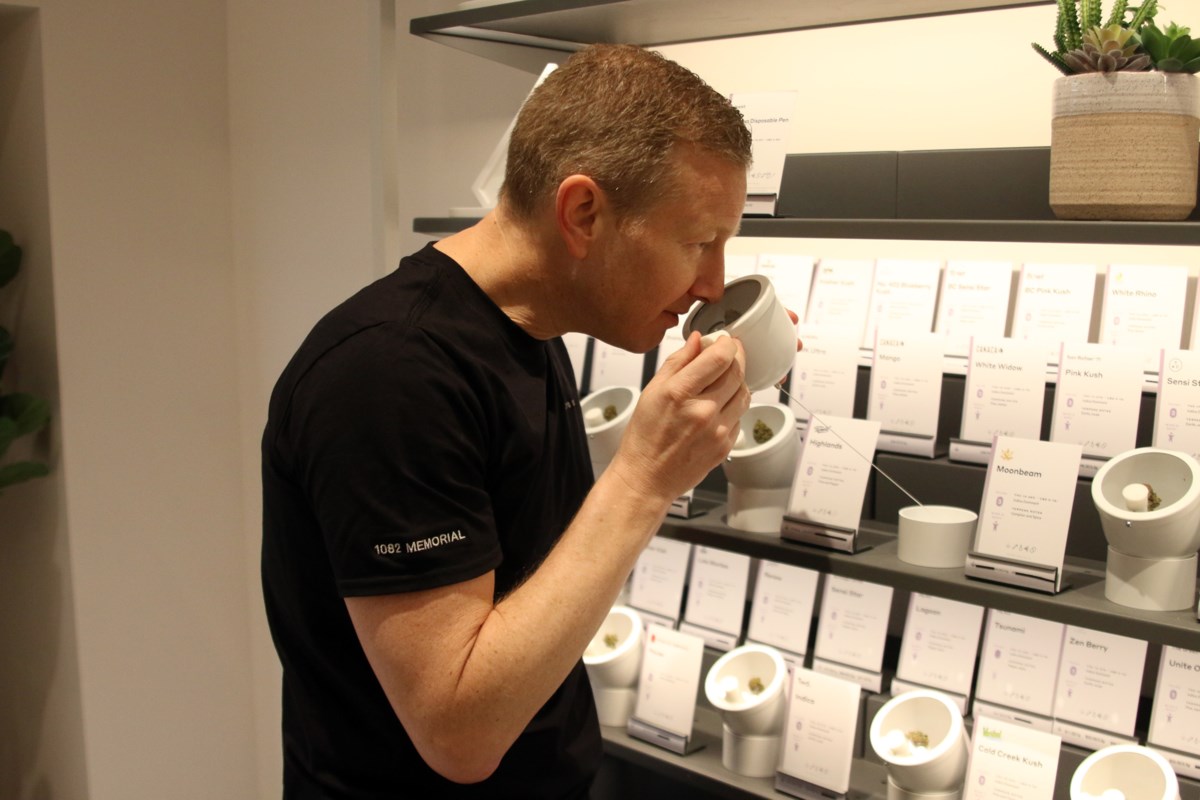 THUNDER BAY – It was a day Taylor Legarde didn't think he would see so soon, but now that it's here, he wasn't going to miss out on the opportunity.
"I just wanted to be one of the first people in Thunder Bay to buy some weed legally in store," he said.
Legarde was the first in line Monday morning awaiting the official opening of Tokyo Smoke, Thunder Bay's first legal cannabis store.
"It's a big surprise. I didn't see it happening this fast," Legarde said. "I thought it would be at least a couple years. But here we are we have a shop in Thunder Bay and I think it's going to go well."
The process to open the store on Memorial Avenue began last August after the company received a license through the provincial lottery system. And while there were some hurdles to overcome, including opposition by area businesses because of its proximity to YES Employment, the store was granted approval and owners and Tokyo Smoke officials are excited to finally unlock the doors.
"We're ecstatic to be open in Thunder Bay," said Michael Rodenbourgh, who co-owns the store with Rick Bohonis. "It's been a long time coming to have legal recreational cannabis available in Thunder Bay and the community is super excited. Everywhere we go people are talking about the store and excited to have it open."
The store employs 25 people and Rodenbourgh said he expects to add more staff later this week. He is also anticipating a strong demand from the public and between 500 and 700 customers on the first day of business.
Melissa Gallagher, director of franchising for canopy growth with Tokyo Smoke, said the response in Thunder Bay has been very positive leading up to the opening date.
"We know this is an underserved market," she said. "It is the first legal recreational cannabis shop for miles and miles. So we anticipate there will be a very strong response, as we've seen already with someone waiting outside."
According to Gallagher, Tokyo Smoke is an education-first brand, meaning customers who enter the store are walked through cannabis education with staff to find the right product.
"It's incredibly important in a new market, but in any market to be able to provide education to our guests," Gallagher said. "We think it's important both for those who have experience with cannabis and those who don't. We designed the store and the products we offer both with novice consumers in mind and those who are more experienced."
Only those above the age of 19 are permitted into the store and IDs are checked at the door.
The Ontario Cannabis Store only releases a certain amount of product to licensees to be sold on a weekly basis, but Gallagher said there are no concerns about supply.
"Even though there is great demand, products are restocked on a weekly basis," she said. "It is still strong supplies, so what we've seen, although there is great demand, we are able to restock and meet that demand."
In terms of prices, Rodenbourgh said they should be consistent with the OSC website.
"Prices currently range from $8 to $18 per gram to provide a range of options at every pricepoint," Gallagher added.
But for customers, having a physical store in Thunder Bay means more options and hopefully ending some of the stigma around legalized cannabis.
"I think it's pretty important," Legarde said. "People are forced to use the Ontario website and I've been hearing some bad things about it. I think it's time we had a store here."
Robert Thompson, who was one of the first customers as well, said the store is a very positive place and should help change some people's views of what a cannabis store is like.
"It's bright, it's clean, it's welcoming, Thunder Bay is very lucky to have it and I wanted to support it today," he said. "Going forward it's going to be great for the city I believe."
"I believe people have some misconceptions of what a cannabis shop would be. And they are going to be pleasantly surprised by how nice this place is and how friendly and educated the staff are."
This is the seventh Tokyo Smoke to open in Ontario. Gallagher said if the demand is here, there could be the possibility of opening up another location in the city.