LOS ANGELES – Lowell Herb Co., one of the fastest-growing cannabis companies in California, is pleased to announce the release of their Old Fashioned THC Mints. Lowell's Old Fashioned THC Mints offer the lasting peppermint flavor of classic mints – but with a micro-dose twist. Refreshing, bold, and simple, Old Fashioned THC Mints are infused with 2.5 mg of all-natural California grown cannabis for the perfect micro-dose experience.
With the low dose of THC and plenty of natural peppermint oil, you can expect a strong and refreshing flavor that invigorates the senses while allowing for a discreet and inconspicuous experience. With a 2.5 mg micro-dose of THC, seasoned cannabis enthusiasts can build the feeling they crave while newcomers can enjoy a relaxed experience and remain alert. These micro-dose mints are the perfect way to enjoy Lowell any time, day or night.
Lowell's first edible delivers on the artisanal quality and craftsmanship the brand is known for. Craftsmen press each mint by hand– using all-natural, Non-GMO, fair trade, vegan ingredients. This gives Lowell's Old Fashioned Mints a natural tan color and rough edge. At just 5 calories per serving, with simple ingredients and zero THC aftertaste, Lowell's mints are sure to delight.
"We kept a wide range of consumers in mind when creating our mints. From cannabis enthusiasts to newcomers, our mints are a lifestyle product that offers a discreet and accessible way to enjoy cannabis while maintaining the craft and quality our brand loyalists have come to expect." said David Elias, CEO of Lowell Herb Co.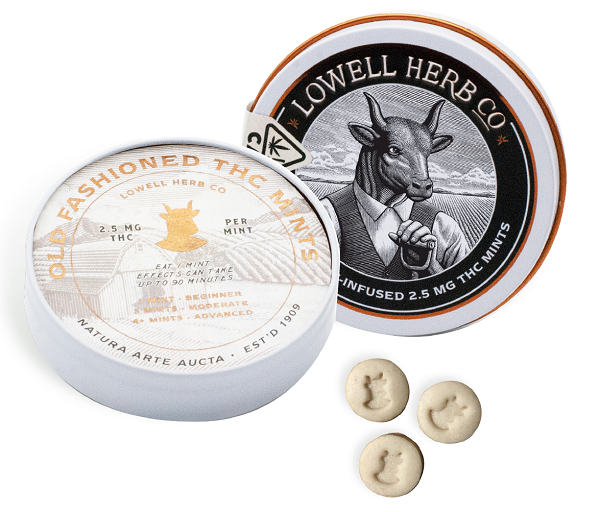 Lowell will launch their first advertising campaign to support Old Fashioned THC Mints, with messaging and creative developed entirely in house. "This campaign is really a celebration of the brand, it perfectly captures the appeal of our mints and we are excited about the opportunity a low dose edible has to bring new people into the Lowell Brand and the category," said David Elias, CEO of Lowell Herb Co.
Featuring 40 original cannabis mints per tin, Lowell's Old Fashioned Mints retails for $18 and will be available starting September 4th at Kolas Network in Sacramento, Mankind in San Diego, Sweet Flower in Los Angeles and other fine Lowell retailers.
---
Lowell Herb Co.
Lowell Herb Co. has elevated the perception of cannabis consumption with its sophisticated packaging and best-selling products. Based in California, Lowell Herb Co.'s ethos is reflected through its instantly recognizable bull logo that pays homage to the fight against cannabis prohibition. For more information, visit https://lowellfarms.com and follow on Instagram @lowellfarms.