The owners and staff at Satori, one of Bellingham's best-known cannabis retailers, want to spread the word about the medical uses of cannabis. For as long as we can remember, it's been looked at as an illegal drug—but its health benefits are undeniable. So how to discover if it's right for us, and how to make sense of all the chemistry, products and brand names? To find out, WhatcomTalk's Steven Arbuckle spoke with Nancy Southern, recognized by Washington State as a certified medical marijuana consultant.
What brought you into the world of cannabis?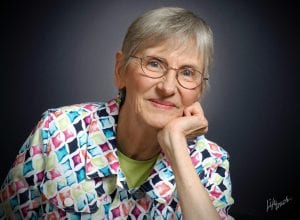 Nancy Southern, MSW discovered medicinal cannabis when struggling to stay on top of her health is-sues, and now specializes in educating our community's "over 50" citizens. Photo courtesy of Nancy Southern
From the time I was a young child I had adverse reactions to most medical treatments or medicines, whether they were antibiotics or anaesthesias. So in my early twenties, I went the natural route and looked for ways to support my body in healing itself. A few years ago, during a challenging time with my health, a friend of mine suggested I watch an online documentary series about the medical use of cannabis. After watching the first two episodes, a light bulb went on and I knew I had to give it a try.
And then you made the move from learning, to teaching.
Cannabis has done so much to give me a sense of hope for recovering my health. Since I'd been an adult educator throughout my career, I just knew I was supposed to teach this to my fellow baby boomers. I took online courses and got certification with the state. I also knew I needed to work in a dispensary to get to know the products. That same year, 2017, I was hired to work at Satori in Bellingham, to learn about the products that were being created for various health issues. Early in 2018, I began teaching seminars in northwest Washington.
Most people have spent most of their lives hearing about the illegal drug marijuana. How do you teach about the valuable medicine, cannabis?
When you have knowledge you can let go of fear, and you can let go of the myths and misinformation that you may have heard over the years. I think the best way to begin is to explore the history of cannabis, to understand that it has been used by humans for hundreds if not, thousands of years—if not longer—for health and wellness. Historically, cannabis was used for the very purposes we're wanting to use it for now. Up until the 1930s, when it was first made a controlled substance, it was a common element in the local pharmacist's repertoire. It was even taught in pharmacology schools until the early 1940s, when it became prohibited, mainly a result of political andeconomic efforts. That was the early days of the rise of pharmacology.
And the technology has changed, right? It's not just about smoking joints these days?
Most of Nancy's informational talks are given over the internet these days, and she also offers person-al consultations by phone or internet. Photo courtesy of Satori
Yes, that's true. New laws and regulations opened the door to all these other ways of using it. For those new to cannabis, smoking is no longer the only choice. For many health and wellness customers, what we see now is a rapidly growing market for tinctures, edibles, topical products and concentrated oils that can be mixed in with food or drinks.
It's also not about "getting high" anymore, either. Is it true that cannabis medicines don't have that chemical, THC, in them?
Not exactly. Cannabis by its nature has always been a combination of the various cannabinoids. The amount of THC varies from plant to plant and product to product. The desirable formulation depends on the person and the condition they want to address. Those who want to avoid the THC effect often are buying products high in CBD—that's the non-psychoactive compound—and getting welcome results. The packaging will say "this is a 1 to 1 ratio," or "this is a 20 to 1 ratio," and there are lots of ratios in between. You may get relief for your symptoms with a 20 to 1 CBD to THC ratio, and it's highly unlikely to feel the effects of the THC. A strong recommendation in the industry is to "start low, and go slow." There's little to be afraid of using products that contain THC. It's simply worthy of respect and mindful use. Sometimes, it's the higher THC that's best for that individual.
So what do you say to a first-time customer, someone who has never shopped for cannabis?
We want to make sure people come with their ID—either a driver's license or a passport—and a mask, due to COVID, because you need both to come in the door.
When you're at the front counter, just say "I'm here for a health issue," or "I want to see what you have available in non-smoking products." Or, "I really don't want to get high at all"—if that's true for you. At Satori, our focus is on serving not only registered medical patients, but also those looking to cannabis as a health supplement. We make a point of educating our staff, and helping each person make informed choices for their situation.
People with no knowledge of cannabis culture can come to Satori for a full education and help selecting products to try. Photo courtesy of Satori
Talking about your symptoms rather than the name of the disease will help the sales staff guide you, and identify what product might be best for you. You can say: "I want something for pain," or "I want something for indigestion." Or, maybe, "I want something for headaches," or "I want something to help me sleep better at night."
For most people who are beginners, starting with a tincture of some kind, or a topical, is often the most comfortable choice. If you have joint or muscle pain you can rub on a topical and begin to get some relief in 15 to 30 minutes. Beside tinctures, edibles and drinks are also available. It's now much easier to get these options with a high CBD ratio. With so many options to choose from, the staff will help you narrow it down. Edibles with high THC are often too strong and because they take much longer to activate may not be the best choice in the beginning.
And you are available if someone feels they need more information?
Yes, I'm teaching classes and I'm doing private consultations by phone, e-mail or by online chat. People can call the store at 360-746-8478 and ask for me, and they will give them my e-mail address to set up a phone appointment.
How to understand what's available, and how to make wise choices—that's where I come in. I try to give people enough education that they can begin to make wise choices about whatever it is they want to address.
Sponsored