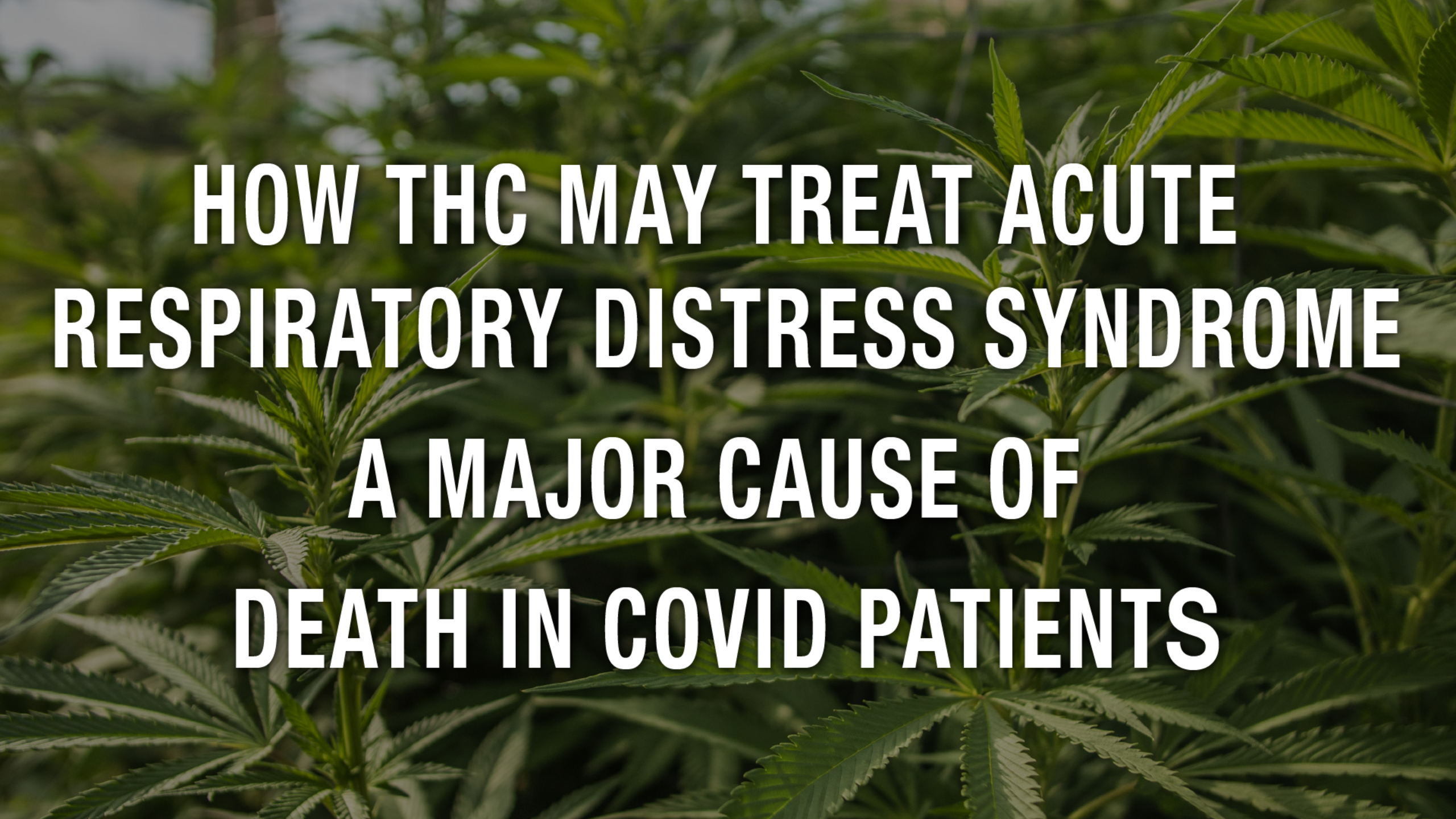 Neurosciencenews.com reports that researchers in India have found that THC, the principal psychoactive ingredient in Cannabis, can prevent a major cause of death in COVID-19 patients.
As the Neuroscience.com article explains, "Acute Respiratory Distress Syndrome (ARDS), when caused by a bacterial toxin known as Staphylococcal enterotoxin, can be completely prevented by treatment with Δ9-tetrahydrocannabinol (THC), a cannabinoid found in the cannabis plant. This exciting finding, recently published in the highly cited British Journal of Pharmacology, also suggests a possible treatment for ARDS caused by COVID-19.
Of course, COVID-19 is not the only cause of ARDS.
"The incidence of ARDS in the United States is 78.9 per 100,000 persons/year and the mortality rate is 38.5 percent. When inhaled, Staphylococcal enterotoxin can cause ARDS by activating immune cells to produce massive amounts of cytokines leading to "cytokine storm," which can cause the lungs and other organs to fail, often resulting in death. This immune process is similar to that seen in patients with severe COVID-19 who are admitted to the hospital and develop ARDS accompanied by cytokine storm, which leads to respiratory and multi-organ failure. These studies, therefore, raise the exciting possibility of using cannabinoids to treat ARDS seen in COVID-19 patients.
These studies also showed that Staphylococcal enterotoxin alters the microbiome in the lungs leading to the emergence of pathogenic microbiota. But THC helps this symptom too, by promoting beneficial bacteria that suppress inflammation thereby preventing the damage to the lungs.
"Acute respiratory distress syndrome is triggered by a variety of etiologic agents. Currently, there are no FDA-approved drugs to treat ARDS because of which the mortality rate is close to 40 percent. Our studies suggest that THC is highly effective to treat ARDS and thus, clinical trials are critical to investigate if this works," said Mitzi Nagarkatti.
"Cytokine storm is a huge clinical issue which leads to multiorgan failure and often death. It is also seen in COVID-19 patients, and there are no effective treatment modalities against this syndrome. We have been working on cannabinoids for over 20 years and found that cannabinoids such as THC are highly anti-inflammatory. Thus, our studies raise the exciting suggestion to test THC against ARDS seen in COVID-19 patients," said Prakash Nagarkatti.
The Nagarkatti laboratory has performed decades of pioneering studies on cannabinoids. In fact, their studies on the use of another cannabinoid derived from the cannabis plant, cannabidiol (CBD), to treat autoimmune hepatitis have been well-recognized in the field and have led to FDA approval of CBD as an orphan drug to treat this disorder.
The Nagarkatti Laboratory has published extensively to demonstrate that cannabinoids are potent anti-inflammatory agents that can be used safely to treat a variety of inflammatory and autoimmune diseases such as multiple sclerosis, colitis, hepatitis, and the like.
Conclusions
The current study demonstrates for the first time that THC attenuates SEB‐mediated ARDS and toxicity by altering the microbiota in the lungs and the gut as well as promoting anti‐microbial and anti‐inflammatory pathways."
See: DID MARIJUANA PROHIBITION CAUSE THE COVID-19 PANDEMIC?
And COVID-19, AIDS and the Suppression of Medical Cannabis
And if all the above still seems crazy, consider that since the pandemic began the President of the United States has suggested a number of things that he says might cure COVID-19, injecting bleach, a malaria drug, and now his fanboy the TV pillow guy has suggested an extract of oleanders.
See: MARIJUANA PROHIBITION IS MASS MURDER. END MARIJUANA PROHIBITION NOW!
And now the CBS affiliate in Dallas reports that "Almost 50 North Texans Drank Bleach This Month, Poison Center Warns 'Stop, It Won't Cure COVID"
To my fellow Texans, Tequila will work just as well, taste a lot better, and it will take more of it to kill you. So put some lime in the Tequila and drink them both down, because Texas leads the nation in marijuana arrests as well as vacuous blather about freedom.
Of course, if you think The Lord would disapprove of your using Tequila, Jerry Falwell Jr. will give you a dispensation.
Richard Cowan is a former NORML National Director and author of the Marijuana Weekly News nationally syndicated CBD column.
We may earn a commission from links on this page, but we only recommend products we back. Newsweek AMPLIFY participates in various affiliate marketing programs, which means we may get paid commissions on editorially chosen products purchased through our links to retailer sites.