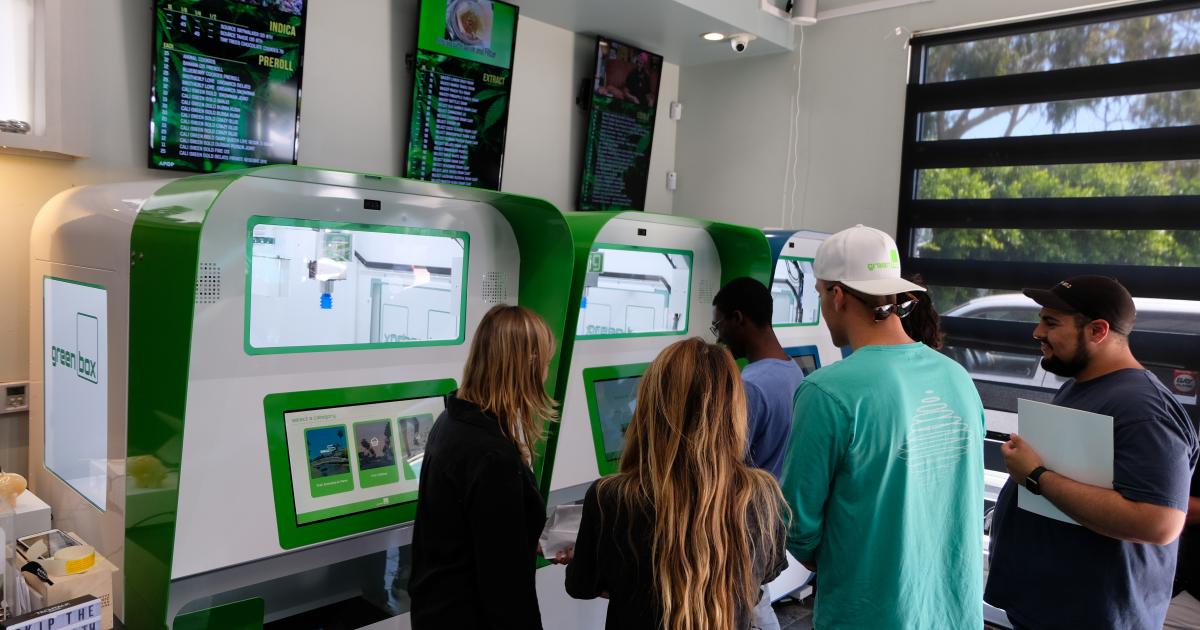 Cannabis vending machines have been gaining ground in U.S. and Canadian markets.
In 2014, Vancouver dispensary B.C. Pain Society installed what is believed to be the first assistant-less vending option. Since then, other Canadian operations and legal U.S. markets have followed suit.
In Colorado, for example, the first "anna" vending machines debuted with some 2,000 products, including flower, oils and edible options. Introduced at Pueblo's Strawberry Fields dispensary, these machines catered to experienced consumers who didn't require Budtender assistance.
"The evolving retail arena is increasingly competitive and requires rapid innovation," says Anna investor and Cannapreneur Partners Co-CEO Todd Sullivan. "Cannabis vending machine technologies can be a viable solution for dispensary owners to give themselves an edge."
An Emerging Market Feature
For Greenbox CEO Zack Johnson, the rollout of "Anna" machines is a positive sign for the sector.
"We're actually excited to see the launch of the Anna vending machines in Colorado simply because it spans the automation market within the cannabis industry," Johnson said.
Greenbox is touted as a robot that recognizes new and returning customers, creating a tailored CBD buying experience for each user, Johnson explained.
Beyond that, vending machines and adjacent products alike need to create an efficient consumer experience, he added, citing how average transaction times for Greenbox shrank from just short of four minutes to under two minutes.
The company also partnered with Cura Cannabis Solutions and its Select brand, which leased four Greenbox robots to sell CBD items at the 2019 Coachella Festival. This created an opportunity for Greenbox that would have otherwise taken years to achieve.
"We ended up pivoting to offer CBD robots where customers can learn as much as they possibly can about how these products are going to help them with any sort of challenge," Johnson said.
Greenbox expanded to 10 malls across the U.S., in states such as California, Texas, Florida and New Jersey. Each robot offers 15 different brands and various consumption methods.
However, additional pivoting would be required with the onset of the COVID-19 pandemic.
COVID-19 Creates Setbacks, Opportunities
Because the ongoing pandemic kept potential customers in their homes and away from malls, Johnson had to assess Greenbox's next steps. That's when he connected with The Superior Group, who recently acquired Los Angeles' 10th largest apartment complex.
One robot was installed in its lobby, stocked with products geared toward home consumption, including oils and bath bombs. The decision led to the company's most successful robot to date.
Johnson said the company is now looking into rolling out more residential options.
"We're seeing names pop up again and again," Johnson said of returning business at the apartment complex.
Next Steps
Cannapreneur Partners' Sullivan said the company has an eye on disruptive tech while emphasizing that brick-and-mortar will continue to remain in the space.
"As we continue to deploy capital in the cannabis space, our eye is on a wide range of next-generation technologies with the potential to be effective solutions for the industry's ever-changing demands and drive sizable growth," Sullivan said.
One potential solution is the integration of Android and Apple Pay options so consumers can make contactless payments, Johnson says, adding that companies must remain innovative.
"If you can't execute and move the ball down the field, evolve your business and your offering, as well as stay up to speed on regulations and compliance, then you will get left in the dust," Johnson said.
Related links:
Greenbox And The Power Of Cannabis-Dispensing Robots
© 2020 Benzinga.com. Benzinga does not provide investment advice. All rights reserved.