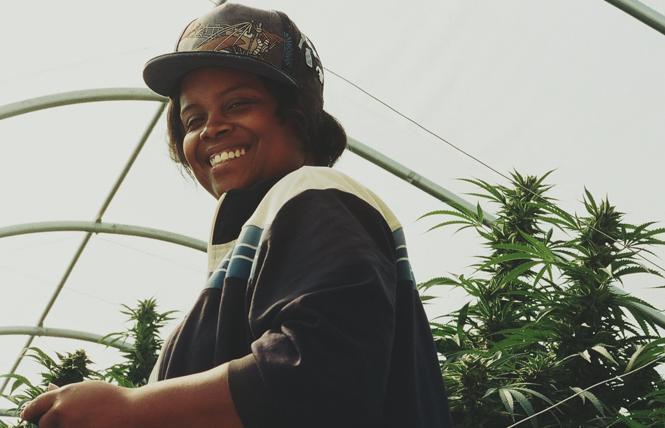 A publicly funded social equity kitchen to support people of color who want to enter the infused cannabis market was announced Tuesday by lesbian Amber E. Senter, CEO of the Oakland-based cannabis company, Breeze Distro.
Senter, a co-founder of Supernova Women, a 5-year-old nonprofit whose mission, according to its website, is to "empower people of color to become self-sufficient shareholders in the cannabis industry," wrote in an email, "There has been some stop-and-start in my world and I have been steadfastly working on a project that I'm really pleased to announce."
The new program, she stated, aims to "help jump-start the pathway to success in the infused cannabis space," which includes edibles, tinctures, and beverages.
A virtual grand opening was set for September 15.
The program was launched with a $250,000 contract from the city of Oakland to Equity Works Incubator for the shared kitchen, founded this year by Senter and her business partner Cesar Angobaldo, a straight ally, with funds from California's social equity program.
The contract will be used to support five equity fellows in a one-year program that will enable the entrepreneurs to obtain a state license to operate an infused cannabis business. According to Senter, the program is the nation's first state-funded cannabis manufacturing incubator for social equity business owners.
According to Senter, there are high barriers to enter the field of cannabis manufacturing, due to "extensive infrastructure and regulatory requirements," she wrote, for producing and marketing edible and infused cannabis products.
"People of color have been engaging in recipe development, extraction, and consumption of infused cannabis products for decades," said Senter in a prepared statement. "Black- and Brown-owned cannabis brands reportedly… represent 3% of the cannabis companies in California. The edibles category are California's fastest and largest growing cannabis segment with 20% year over year growth."
The goal of Equity Works Incubator is "to train, empower, and build capacity for full engagement in the cannabis market, especially for communities who have been historically targeted by the war on drugs to break into the legal cannabis industry," Senter wrote.
The new program should be able to "eliminate barriers for market entry" by providing each business with 1,200 square feet of commercial kitchen space as well as mentorship by seasoned cannabis executives as well as workshops and training on various aspects of the industry. The program will also "supply a guaranteed distribution channel" to retail shelf space, according to Senter.
Aspiring fellows can apply to Equity Works Incubator at https://www.oaklandcannabiskitchen.com/application
The deadline is October 2.
Help keep the Bay Area Reporter going in these tough times. To support local, independent, LGBTQ journalism, consider becoming a BAR member.