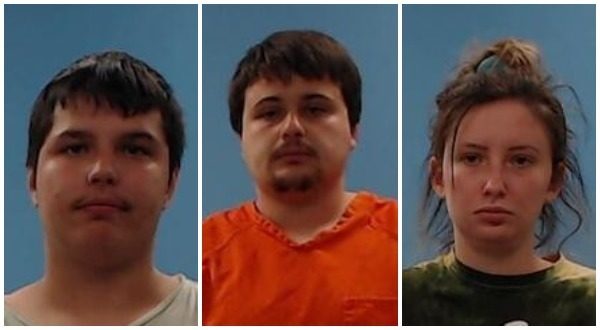 Photo: (left to right) Ryan Womack, Marcus Mendoza and Anja Handy
Affidavits have been filed in Boone County providing details, including the identities of three individuals, arrested last month when over $1 million in drugs and property were seized in a raid.
According to probable cause affidavits, the three arrested and charged are 20-year-old Ryan Lee Michael Womack and 23-year-old Marcus A. Mendoza, who are brothers, and 21-year-old Anja Michelle Handy.
Authorities raided three residences, one along Arkansas Highway 43 South and two along Primrose Lane, on Oct. 14. The residences are near one another.
During the execution of search warrants, numerous items were located and seized, including
– Approximately 300 pounds of suspected processed marijuana
– 179 THC vaping cartridges
– 1,211 packages of gummy-type and other THC edibles
– Approximately 191 packages of THC, wax, scales, packaging materials and drug use paraphernalia
– Receipts with the name "Marcus Mendoza" listed as "Patient" on numerous packages of the edible THC from a California dispensary
– 2020 Dodge Charger
– 67 firearms
– Miscellaneous ammunition in bulk
– $6,411 in U.S. currency
– Electronics and
– Money bands.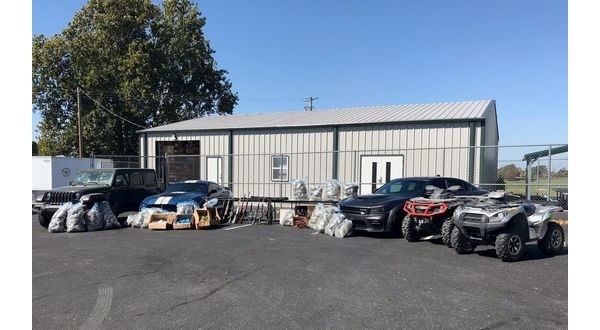 Five persons were located in the residence along Highway 43 South, including the three arrested and charged, as well as a male toddler, the son of Mendoza and Handy, and a second juvenile.
Of the 67 firearms seized, six were located in the toddler's bedroom. Three were located in unlocked cases underneath a crib, while three were located unsecured in the bedroom closet, one of which was loaded with a live round in the chamber.
At a residence along Primrose Lane, officers seized
– 18 firearms
– Miscellaneous ammunition
– Drug use paraphernalia and
– Title for a 4-wheeler located at the Highway 43 South residence.
In a post Miranda interview, Mendoza allegedly admitted to selling marijuana and bi-products for financial gain. He reportedly admitted flying to California in early October to complete a drug transaction with a supplier he had been dealing with for approximately one year. Over time, the purchases had grown, with the latest one being his largest re-supply to date.
Mendoza told law enforcement his brother accompanied him on the October trip to California. However, Mendoza said Womack was not in direct contact with the supplier.
The brothers are charged with
– Simultaneous possession of drugs and firearms, a Class Y felony
– Maintaining a drug premises, a Class C felony
– Possession with purpose to deliver a controlled substance, Schedule VI, a Class A felony
– Possession of drug paraphernalia manufacture controlled substance, a Class D felony
In addition, Mendoza and Handy face a felony charge of endangering the welfare of a minor.
Bonds for Womack and Mendoza were set at $250,000, while Handy is free after posting a $5,000 bond.
WebReadyTM Powered by WireReady® NSI