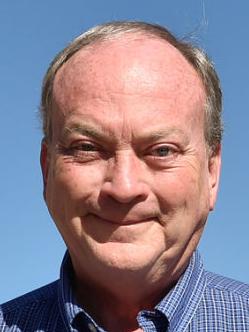 Animosity between the president of Historic Denton and city officials continues, with the president of that organization deciding to end seeking support from Denton on historic preservation projects.
"I decided not to apply for the Certified Local Government Grant," said Randy Hunt, president of Historic Denton, the nonprofit organization that advocates for preserving historic areas and properties in Denton. "What started it is seeing what the city has done to us. It started in 2014. We had a lot of problems, and I decided I'm going to try to take a high road and make sure this never happens again. I created Historic Denton."
Preferred surveys
That grant would have funded a fourth survey of an undisclosed area of the city. The Texas Historic Commission had chosen original downtown Denton for that survey. The other three were for the now-defunct John B. Denton College, the O'Neil Ford buildings in Denton and the North Texas State Normal area — the area just north of the University of North Texas.
Hunt is required to work through the THC and, at times, the National Park Service to create National Register Districts. He wants to preserve historical properties, such as those designed by Ford, a famed Denton architect who designed 13 properties in Denton, including the Fairhaven, the Chapel in the Woods on the campus of Texas Woman's University, the Denton Civic Center, Denton City Hall and First Christian Church.
'Really impressed'
"I've been really impressed with Randy," said Leslie Wolfenden of the THC. "He's doing all the leg work and research. I do a professional review of everything he's done, and he takes my critique extremely well. But because Randy and his group are volunteers, it takes a lot longer, and we have to do a lot of hand-holding."
The relationship between Historic Denton and the Denton City Council has been, at times, contentious. During council meetings, they often argue about processes and procedures for grant applications — despite the fact Historic Denton is not a city entity and has no accountability to the City Council. However, THC prefers to obtain the blessings of municipal governments on city projects as a matter of principle. But such approval is not necessary.
"I can't really comment on their relationship because I haven't been to any of their meetings," Wolfenden said. "But I must say that Randy and his group of volunteers have done a fantastic job of getting the surveys done. We are working on downtown Denton next, which is sorely needed. But even through the city of Denton isn't interested in doing the preservation work, it is still getting done."
City officials did not return messages seeking comment.
The Fairhaven
The preservation work includes the Fairhaven, an $8 million renovation project that reopened an assisted-living center designed by Ford.
"That is a prime example of how tax credits support rehabbing a building," Hunt said. "And that's why THC encouraged that the next survey will be of the entire downtown area. The rehabilitation of the building used the 45% tax credits to lower the total cost from about $8 million to about $4.4 million. There are sample residential rooms that appear as they were originally designed by Ford and built by (A.B.) Swank and (Roland) Laney. The Fairhaven becomes an example of how incentives work to restore buildings to use rather than raze 'old' buildings."
The Fairhaven was built in the 1960s after a group led by Myrtle Richardson and Bessie Shook spearheaded a fundraising campaign to build a retirement home.
The business on Bell Avenue closed in 2007 because, said Austin developer Justin Hobson, it needed "a significant amount of capital improvements." Hopson, of InvestCor, obtained the property, renovated it and reopened it to residents.
Fairhaven now includes 48 units, a library, a beauty salon, a restaurant, bistro and multipurpose room. Outside Fairhaven is a courtyard, fireplace with a sitting area, koi pond and walking trails on more than three acres.
In a letter dated June 25, 2018, to the National Park Service, Hunt made his case to list Fairhaven on the National Register.
"In 1956, residents in Denton, Texas, began a vision for a retirement home located in Denton," he wrote. "Their apparition is reflected in the two words selected to describe their efforts: 'Fair' for seniors and a 'haven' for residents. Their vision for Fairhaven was for a residence for older persons designed as a hotel type home with facilities for the active retired person."
The letter includes the history of Fairhaven — the people involved, the money raised and those leaders who ensured its survival for more than 40 years.
Tax credits
Hobson has said the renovation would not have happened without the tax credits.
"This is a pattern that THC and Historic Denton created to get the Fairhaven listed on the National Register so it would qualify for the 45% tax incentives," Hunt said. "A lot of vetting has to happen. Last year, I hosted the Texas Historic Commission State Board of Review here in Denton. That is the group that does final vetting. It's a make-it-or-break-it-point on the National Register District. Knowing that I secured that, I said, 'Does the name O'Neil Ford mean anything to you?' That is when THC identified Fairhaven significant enough to list on the National Register."
In addition to state and federal tax credits, the project received a 50% property tax abatement for 10 years from the city. It took a year and a half to complete the renovation.
Hunt is also responsible for erecting six state markers on historical properties in Denton, including at his home on West Cox Street.
"THC contacted and said, 'Let's take this up a notch. Why don't you focus on doing an entire neighborhood — not just individual houses?'" Hunt said.
In an email, Hunt said that National Register Districts differ in several ways from Historic Districts, including the level of vetting at state and federal levels. Also, National Register Districts "are a collection of more than 250 buildings, typically built within a 50-year time period, and that they provide state and national recognition."