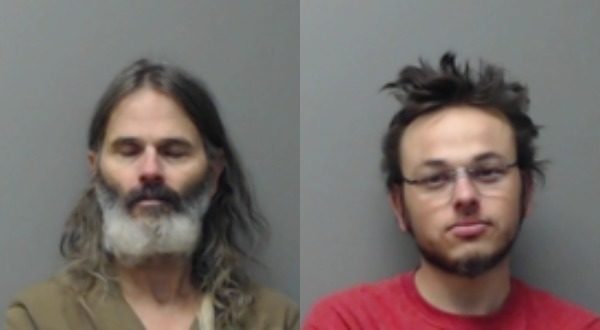 Photos: Kevin E. Swadley and Kip Swadley
Three family members and a houseguest arrested when drug paraphernalia, unlicensed tattoo equipment and part of a rotting deer carcass were found in and around a Gassville residence have now entered not guilty pleas to their charges.
The family members charged were 51-year-old Kevin Swadley and his sons, 29-year-old Kip and 21-year-old Jacob. In addition, a female, 29-year-old Rachel Renee Harrelson, was picked up. She was reported to have been in the company of Jacob Swadley.
Jacob and Kip Swadley pled not guilty to the charges against them on Nov. 12. Kevin Swadley and Harrelson entered not guilty pleas during a session of Baxter County Circuit Court Thursday.
Officers went to the home located along Peacock Lane Nov. 5 to conduct a compliance visit on Kip Swadley, who is currently on probation.
The officers reported finding about 20 devices used for ingesting drugs in the residence. The residue in two of the devices field tested positive for methamphetamine. Most were said to have been used for smoking marijuana and/or THC wax.
THC is the main psychoactive property in marijuana. The wax is a concentrate that can contain THC levels equivalent to 15-20 marijuana cigarettes.
A variety of tattoo equipment was found in the living room and the bedroom occupied by Kip Swadley. He is alleged to have admitted to investigators that the equipment belonged to him.
It is illegal in Arkansas to possess such equipment without a license. It is also required that the equipment only be used in a permanent shop.
Officers also found a cooler in the yard of the residence containing "part of a deer that had been butchered and allowed to spoil."
No one in the residence claimed to have any knowledge of the cooler or how it had gotten to the residence.
An officer with the Arkansas Game and Fish Commission was informed about the deer parts and will determine if violations of game and fish regulations occurred.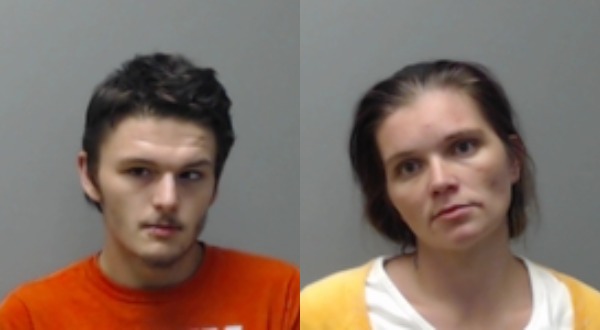 Photos: Jacob Swadley and Rachel Harrelson
The people at the residence were all charged with possession of drug paraphernalia. Kip Swadley is also charged with unlawful possession of tattoo equipment, a Class A misdemeanor.
Kip Swadley was the object of the compliance search. He was put on probation for six years after a bench trial in late February.
He was one of three people who went to the wrong home in search of an allegedly stolen rifle in mid-September last year.
Instead of retrieving the firearm, two of the men — Kip Swadley and 30-year-old Greg "Tony" Garreans — ended up on the ground with a pistol pointed at them by an angry homeowner.
The homeowner said Garreans was banging on the front door of his residence along Ben Nevis Drive in Briarcliff in the early morning hours of Sep. 19 last year.
According to the probable cause affidavit in the case, Garreans and Kip Swadley were armed with 12-gauge shotguns.
The homeowner told responding deputies he answered the door with gun-in-hand and "convinced" Garreans and Swadley to lay down their weapons.
A third man, known only as Alex, who was reported to be armed with a Samurai-style sword, fled the scene after seeing his two companions being held at gunpoint. He has not been found as yet.
According to the probable cause affidavit, the entire episode was based on bad information. Garreans told deputies he had found his AR-15 rifle missing on the morning of Sept. 19 last year and believed a male houseguest had taken it.
A neighbor told Garreans he had talked with the houseguest on the telephone, and the man and the stolen weapon were at the residence along Ben Nevis Drive.
WebReadyTM Powered by WireReady® NSI