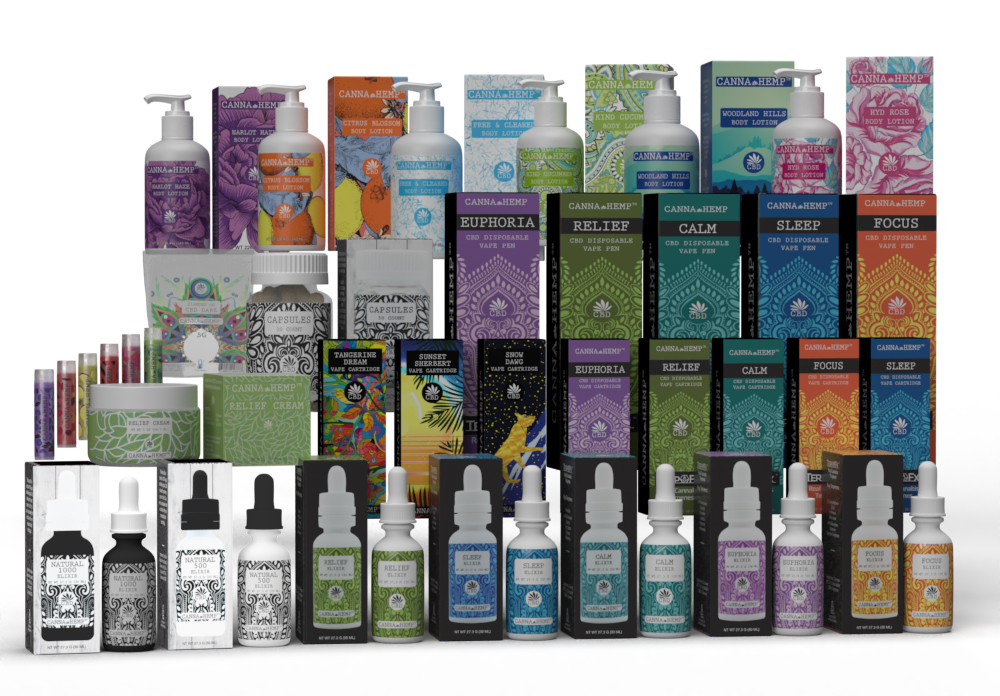 "Canna Hemp™ produces consistent quality in all our of our products. Made in the USA, all natural, non GMO ingredients and lab tested."
Canna Hemp™ is a collection of premium quality hemp-CBD products created to deliver fast-acting effects. We are tirelessly dedicated to consistency, quality and safety. Our hemp-based products are thoughtfully crafted with high-quality, organic botanical ingredients and are free of synthetic chemicals, preservatives and additives, and are third-party lab tested for quality assurance.
1933 Industries' Canna Hemp CBD Products Receive National Exposure Through Mr. Checkout's Distributors
Add Canna Hemp CBD products as part of a wellness lifestyle
Canna Hemp wellness line is pleased to announce that its CBD products will be distributed by Mr. Checkout's network of independent distributors throughout the US.
Canna Hemp's extensive line of wellness products first came to market in 2017, when the benefits of cannabidiol (CBD) as part of a wellness regime were just gaining traction. CBD has since moved into the mainstream and CBD infused products are increasingly gaining market acceptance because of the potential benefits and wellness attributes of CBD.
High-Grade CBD and Real Cannabis Terpenes Makes Canna Hemp Stand Above the Rest
CBD is one of over 100 cannabinoids naturally occurring in the hemp plant and is currently being studied for its potential health benefits and many uses. However, not all CBD products are created equally. Canna Hemp stands as a trusted brand for its unwavering commitment to using only quality organic botanical ingredients that are free of synthetic chemicals, preservatives and additives. Canna Hemp infuses its products with high-grade, 100% all-natural hemp-derived CBD sourced from regulated suppliers in the US.
Canna Hemp also includes real cannabis terpenes from the hemp plant. Terpenes are aromatic compounds that are found in a multitude of flowering and fruiting plants in nature and when combined with CBD, create what is known as the "entourage effect". TerpFX is Canna Hemp's proprietary blend of real cannabis-derived terpenes developed to mimic profiles of cannabis strains. The synergy between cannabinoids and terpenes provides for proprietary formulations aimed for specific effects.
Expertly Formulated for Consumers Seeking Natural Wellness
People across all age groups, from the young to the young-at-heart, utilize Canna Hemp CBD products to enhance their lifestyles. From reducing discomfort and enhancing quality of life, Canna Hemp's fast-acting products deliver desired effects. With Relief, Calm, Sleep, Euphoria, Focus and Natural, Canna Hemp products come in a variety of formats, such as topicals, creams, vapes, elixirs, capsules, dabs, and lip balms.
Better Absorption Means Better Consistency and Effectiveness
Canna Hemp employs state-of-the-art nanoparticle technology to maximize its bioavailability (meaning total absorption in the system). Nano-sized particles ensure that the CBD is quickly absorbed for consistent results every time.
Lauded as Best Topicals
Canna Hemps flagship products, the Canna Hemp Relief Cream and Canna Hemp X Recovery Cream are recognized as best topicals in the market. Canna Hemp X is a pure CBD isolate, sports recovery cream for athletes and amateur sports enthusiasts. With menthol, capsaicin and the essential oils of eucalyptus and peppermint, the relief creams provide hot and cold therapy for those leading active lifestyles.
Transparency and Accountability at the Core of Canna Hemps Values
Canna Hemp provides an experience that's exceptional, effective, safe and consistent in quality. In order to deliver on this promise, the Company adheres to the strictest standards by ensuring that all products are triple and third-party tested for safety with test results embedded via QR codes for traceability. Hemp-derived CBD contains less than 0.3 percent of THC, which means that products are non-psychoactive, without the experience of a 'high'. Continuous testing across the production chain ensures compliance with federal laws.
Try the Full Line of Premium CBD Canna Hemp Products
Canna Hemp – our original diverse lineup of CBD products, including, topicals, creams, vaping products, elixirs, capsules, dabs, and lip balms
Canna Hemp PLUS – available in 2000 mg
Canna Hemp X – pre and post workout recovery sports products
Affordable Pricing, Made in the USA, THC-Free, Made with Organic Oils, 100% Vegan, All Natural and Non-GMO, Lab Tested
Media Contact
Company Name: 1933 Industries Canna Hemp CBD
Contact Person: Clay Sword
Email: Send Email
Phone: 702-417-8239
Country: United States
Website: https://mrcheckout.net/canna-hemp/