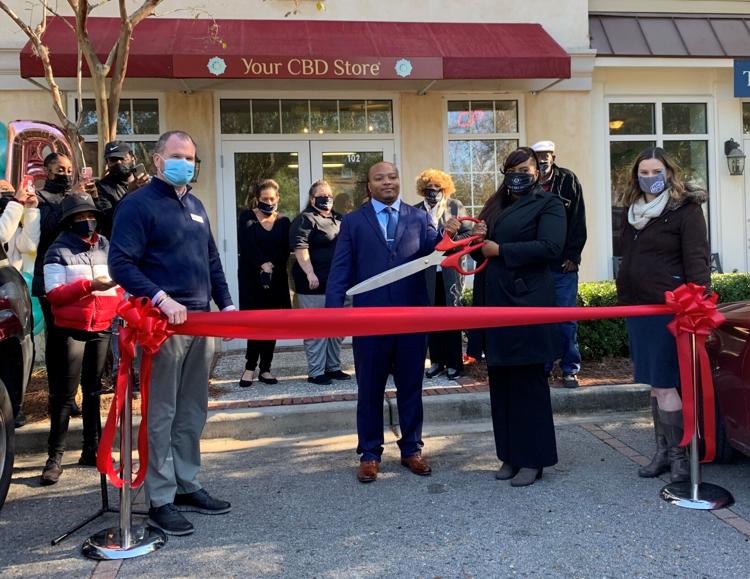 Redrick Dean, co-owner of Your CBD Store in Mount Pleasant, was searching for an alternative to help his anxiety and depression after serving in the Marine Corps for over six years. He learned a little bit about CBD while in the military and wanted to try it out to help get his life back on track.
"I'm a combat veteran and it interested me because I suffer from PTSD," Dean said. "I wanted to find other alternatives than just the meds they prescribe."
Dean retired from the Marine Corps in 2016 and is hoping to educate the community about the benefits of CBD, especially other military members.
Your CBD Store, located at the Shops at Shelmore Village, held its grand opening on Dec. 1. Co-owner Naomi Lamb said she is glad the store is finally open. Surrounded by family and friends, Lamb and Dean cut the ribbon and officially opened their doors to the community. Dean said, "We're looking forward to making this our home."
Dean and Lamb met through mutual friends and have crossed paths several times throughout their lives. They both happened to be looking into CBD when the opportunity to open a store came along.
"She brought it to my attention that we could help the community who suffer some of the same problems, you know as far as mental or physical health," Dean said.
One of Dean and Lamb's goals is to educate the community and alleviate any misconceptions people may have about CBD. Lamb said she didn't know much about the benefits of CBD until she began reading articles and studies.
Through her research, Lamb said she discovered how CBD helped people undergoing cancer treatments and struggling with epilepsy, something she experienced firsthand with a relative.
She described being at a family cookout when her niece suddenly had a seizure for the first time. Those seizures became more consistent until she started taking CBD. Now, Lamb said, her niece's seizures have been reduced from seven or eight a month down to two.
The part that hit closest to home for Lamb was knowing people who died from opioid overdose. She said CBD is a way for people to deal with their pain without relying on heavy, addictive drugs.
"Once you lose somebody to that I mean it's a no-brainer to try to figure out and be open minded to other things that could possibly help to get them off of that," Lamb said.
Your CBD Store has more than 600 retail locations in the United States and abroad, making it one of the nation's fastest growing brick and mortar CBD retailers. The Mount Pleasant location is Dean and Lamb's first franchise, and they are planning to add three more in the Charleston area.
Dean said he thinks the vape cartridges and gummy edibles will be the most popular products because there are a variety of flavors that make the experience enjoyable. Your CBD Store's other products include water-soluble drops that can be added to water, honey sticks to stir tea, and creams for arthritis or other aches. Lamb said the benefit of having a variety of products is that customers can choose their preferred way of ingesting or applying CBD.
"Nobody has to know that they're taking it unless they want people to know they're taking it," Lamb said.
The store also sells CBD products for cats and dogs, including treats and tinctures.
The Food and Drug Administration has only approved one CBD product, a prescription drug used to treat two types of epilepsy, according to the FDA's website. It states that the FDA does not have sufficient data on CBD safety for other marketed products. The FDA does not support claims of treatment or prevention of disease from CBD products that have not been approved.
SunMed and SunFlora, the companies that manufacture and monitor Your CBD Store's products, release third-party lab reports on each product. Since CBD products are not regulated by the FDA, one common concern is of potential traces of pesticides, metals and other contaminants.
The lab report shows the product's cannabinoid profile and includes the percentage of each in the product if present — including THC, CBD, CBN and others. There is also an analysis of pesticides, residual solvents and microbial properties, including yeast, mold and E. coli. The lab report shows if any contaminants are in the products. Some of Your CBD Store's products, including the newest tincture line, are USDA-Certified Organic.
Along with the lab reports available for each product, there is information throughout the store that share the benefits of CBD and details about specific products. For anyone looking to learn more, Lamb suggests the book, "The ABCs of CBD," that is sold in the store.
Dean said their employees are educated and trained to answer any questions or concerns regarding CBD.