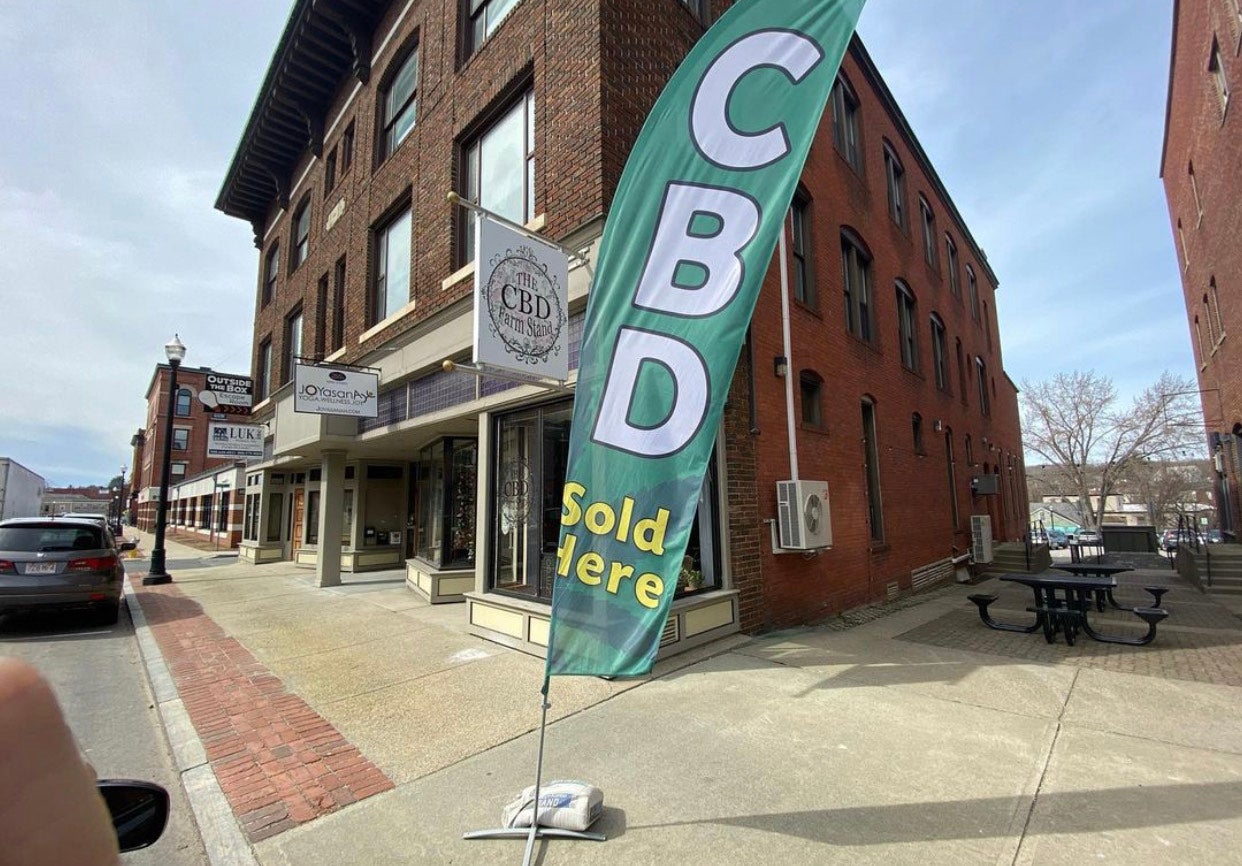 The CBD Farm Stand in Webster sells CBD products made from hemp grown at DreamCatcher Hemp Farm in Dudley. Owned and operated by Bryanna and Gian Ranucci, who hail from Massachusetts and Rhode Island, respectively, the couple are outspoken proponents of their locally-sourced, farm-to-table company model. Gian spoke with WBJ about why they opted to get into the CBD industry and what brought them back to do business in Central Massachusetts.
Photo | Courtesy of The CBD Farm Stand
Bryanna and Gian Ranucci, owners of The CBD Farm Stand and DreamCatcher Hemp Farm
Can you tell me a little bit about who you are?
Bryanna and I have been together for nine years. We love beaches and hiking, love traveling and trying new things.
How did you start your business, and how did you end up bringing your business to Central Massachusetts?
We met in Florida and traveled the country for five years seeking jobs in the marijuana industry, from Colorado to California, back to Massachusetts,where we now own our hemp farm. Brianna being from Plymouth and myself being from Warwick, R.I., Central Mass. was a great place for us to settle down, in between both hometowns.
For those who don't know, what is the difference between CBD and THC?
Both THC and CBD are derived from the cannabis plant, but holding many differences in what they can heal and help with, including how they will affect your mental state. Both are cannabinoids. The main difference is THC has psychoactive effects while CBD has no psychoactive effects.
Why did you choose to work with CBD, rather than adult-use or medicinal cannabis?
We have seen the medical benefits of CBD and how much it can improve so many illnesses. When it comes to psychoactive cannabinoids like THC, also known as delta-9-tetrahydrocannabinol, some people can't handle the high and it is not for everyone. Almost anyone can take CBD.
How large is your manufacturing operation?
Our manufacturing operation is smaller scale, running with seven employees, including ourselves!
Why was Webster the right place for The CBD Farm Stand?
Webster is our bordering town. We love the small-town feel. We wanted to keep the store very local to the farm and be able to help the people in our community
How did the coronavirus pandemic impact business?
Coronavirus affected us with having to shut down our store for three months. Luckily, we still had a great online presence that helped us out a lot.
What is one takeaway people should know about what you do?
We strive on from "our soil to your oil." We do everything from seed to sale. Unlike big brands and Amazon hemp oil, we are the real thing, and we take pride in the quality of our products. We love cannabis and believe in the plant having more benefits than most people know. Trying to inform people and help is our main goal!
This interview was conducted and edited for length and clarity by WBJ staff writer Monica Busch.