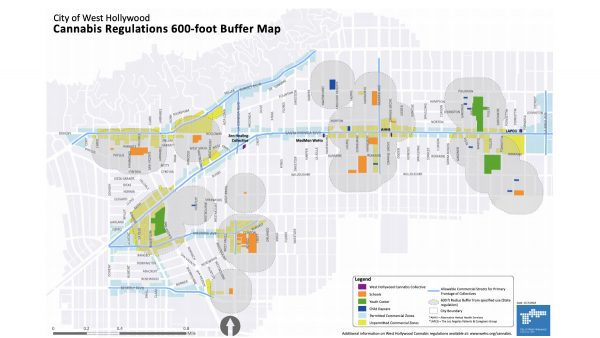 Adult-use Retailers Association urges City Council not to re-write the rules for individual businesses
Dear Mayor Horvath and Members of the City Council,
On behalf of the Adult Use Retailers Association of West Hollywood (AURA), I urge you to protect the integrity of your City Cannabis Licensing process and reject privately-made, inappropriate revisions to the publicly-distributed Cannabis Sensitive Use Buffer Map.
Item 5.B should not be used to amend the "Cannabis Regulations 600-foot Buffer Map" (Cannabis Map) after staff has determined the eligibility of specific properties for cannabis businesses in the Rainbow Entertainment District on Santa Monica Boulevard based on this map, for several years.
While the staff report suggests this Cannabis Map was "only a reference document," the map was publicly relied upon and presented as an official City document with no disclaimers during City Hearings. City officials and cannabis applicants both used this Cannabis Map to make business decisions.
– The Map was provided to City Council when considering the language when adopting the Cannabis Ordinance and was still published by the City when the Council twice amended the ordinance in 2018 and 2020.
– The Map was provided to the Business License Commission at more than a dozen public hearings as authoritative. The Map was presented in staff reports at eight separate hearings in 2021 alone.
– The map was relied upon by 20+ Cannabis License Application winners to select a business location; twelve of which have already gone through the Business License Commission process, where the same map was displayed as a staff report exhibit.
– The "Guide to the Cannabis Regulations 600 Foot Map" published by the City in conjunction with the Cannabis Map states authoritatively that, "Properties within this buffer are highlighted in yellow and are in eligible (sic) to receive a Cannabis license," and, "You may dispute the City's findings by hiring a licensed surveyor to provide additional evidence."
Based off this map, the public's understanding, and the understanding of the City Council when they passed the ordinance, was that the entirety of West Hollywood Park, Plummer and Poinsettia Parks were considered to be sensitive uses. Were they not, the Council may have decided to designate them as such when adopting or subsequently amending the ordinance.
Indeed, when our members negotiated a binding legal settlement agreement with the City in August 2020, the possibility of amending the Cannabis Map was discussed and rejected.
As a matter of fairness, it is important that all Cannabis Business license applicants be treated equitably and under the same rules, and if those rules are to change, there needs to be a public process and all businesses should be notified of any changes immediately. This did not happen.
Rather, as staff admits in their agenda item, City PDS staff continued to issue zone clearances and publicly rely on the Cannabis Map in question for several business license hearings while at the same time privately approving a new interpretation and map amendment for Fantom Flower at 8811 Santa Monica Boulevard.
In his correspondence on this Item, Oren Bitan from Buchalter states that the applicant known as Fantom Flower received approval for the location at 8811 Santa Monica Boulevard within the Buffer Zone on the Cannabis Map prior to entering into negotiations for a lease on the property. That lease was signed on November 1, 2020, and according to local news reports, negotiations for the lease began as early as June or July 2020.
At no point between November 1, 2020 and June 28, 2021 did City Staff inform other Cannabis Business License Applicants of the Cannabis Map amendment based on a new interpretation of sensitive uses at West Hollywood Park.
In fact, City staff continued to present the Cannabis Map in whole or in part, as binding and authoritative at Business License Commission hearings for Greenwolf, Door Number 6, Zen Healing, Farmacy Collective, AHHS, LAPCG, and Budberry/Monica's House as late as June 28, 2021. At least three of these businesses could have chosen a different location on Santa Monica Boulevard had City Staff's private and novel interpretation of sensitive use at West Hollywood Park been properly disclosed to the public.
To apply a new interpretation and amend the Map now, after the Cannabis Map has been used as authoritative for years and a majority of cannabis licensees have chosen alternative locations based on that Map would constitute a gross injustice and potential cause for litigation.
The Council can preserve the Public's trust and maintain the integrity of the City's Cannabis Licensing process by rejecting any privately-made, novel, staff-level interpretations of sensitive uses at West Hollywood Park. The Council must stand for consistency and fairness by denying this amendment to a Cannabis Map that has been relied on by this City Council, the City Business License Commission and all Cannabis Business License Applicants.
Therefore, we ask the Council to reject the staff recommendation on Item 5B and instruct staff to update the Municipal Code to include the entirety of West Hollywood, Plummer and Poinsettia Parks as sensitive uses so that the Municipal Code definitively reflects the Cannabis Map in the future.
Thank you,
Erron Silverstein
Chairman of the Board
Adult Use Retailers Association of West Hollywood