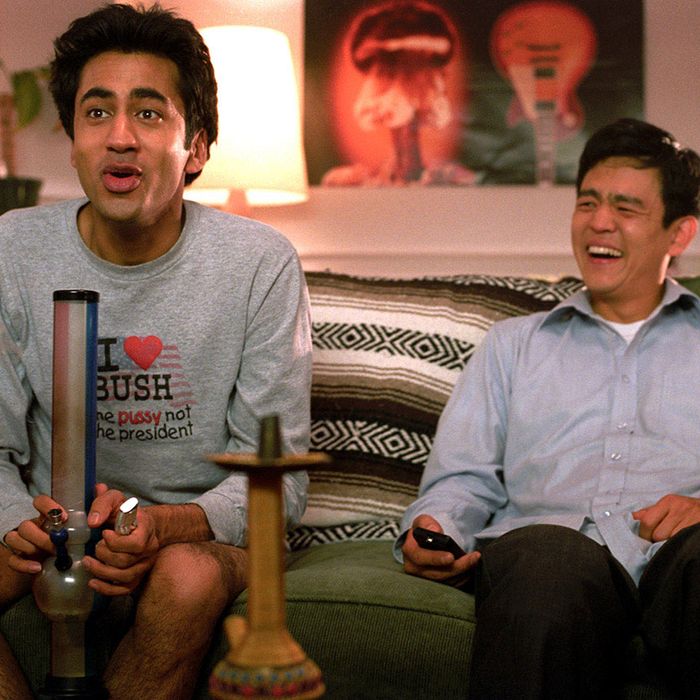 Photo: New Line Cinema/Courtesy Everett Collection
Finding the right gift for a loved one who has a more … commercial hobby (cooking, crafting, reading) can be overwhelming enough. But if that loved one enjoys partaking in something more niche, like cannabis, and you do not, the task can be even more challenging. Still, as cannabis influencer Hashley explains, the growing legalization movement has led to a rise in novel, delightful, and practical stuff for cannabis users, so "you don't need to scramble to the gas station at the midnight hour to buy a poorly made plastic bong and cheap papers." To find the best of the best cannabis-related gifts, we asked Hashley and 17 other enthusiasts — including educators and influencers and notable tokers — about their favorite gifts for folks like themselves. Below, their 37 recommendations, which range from smokable floral arrangements, to an edible-making machine, to a display-worthy water pipe (all of which are available to ship nationwide).
Smoking paraphernalia to gift

According to Gossamer co-founder Verena von Pfetten, "I can't think of a better stoner present than one of these moss- or fern-colored beauties from Greens Girl Co." The pipes are available in both "an offbeat bendy shape that looks like it would be supremely comfortable to hold as well as a more straightforward and softly rounded oblong style," she explains, adding that Greens Girl Co, which was founded by environmental activist Leah Thomas, donates 7 percent of proceeds from each pipe sold to the Cannabis Innovation Fund and Intersectional Environmentalist. So "your gift goes to a good cause, too," von Pfetten concludes.

For a recent birthday, Strategist senior editor Anthony Rotunno received this banana-shaped pipe from luxury smoking-accessories line Flower by Edie Parker. "The best part about it is the more you use it, the more 'rotten'-looking it gets, which is a helpful reminder for keeping it clean," he notes. Even though it looks quite whimsical, the shape is still very functional: "It recalls using a classic pipe," due to the longer body and placement of the carb, he says.

"When consuming my ganja, I always enjoyed the process of rolling and smoking a joint — until I came across Laundry Day," says Santiago Rodriguez Tarditi, co-editor of High on Design: The New Cannabis Culture. "This slick Canadian brand," he says, makes a range of blown-glass hand pipes in interesting shapes, all of which he describes as beautiful. His favorite, however, is the Tanjun Pipe, which "reminds me of the Jantar Mantar observatory in Jaipur."

A bit more portable and discreet, this one-hitter is a favorite of Kassia Graham, the director of national projects and social media at Cannaclusive. She calls it a "much-needed update of the classic" accessory. The one-hitter has an anodized-aluminum body with a chic matte-black finish, and the brand throws in an odorproof resealable Mylar bag and a childproof reusable plastic carrying case with every purchase. The icing on the cake? "You can customize your little friend with up to 30 characters," adds Graham.

If your giftee prefers water pipes, two of our experts recommended this sleek option from Elevate Jane. "The Mimi is a water pipe that makes a statement without trying too hard," says Graham, who adds that "it's so chic you'll want to show it off even when it's not in use." Datrianna Meeks, the founder of Up in Smoke, agrees, telling us she loves the "modern look and double percolators" that provide "smooth, flavorful hits."

For something more high-tech to smoke with, cannabis writer Brittany Parker, a self-described "PAX stan," suggests the brand's vaporizer, which can be used for both bud and concentrates. "It's not the smallest vaporizer, but it easily survives my clumsiness and is discreet enough that I can use it without anyone noticing." While the vaporizer would be a splurge, Parker says she used an older PAX for more than seven years before upgrading to this one, so it would be a gift that lasts.

Both Marta Freedman, co-founder of Nice Paper and Dieux skin care, and comedy writer Caroline Goldfarb, who runs Instagram's @officialseanpenn and is a co-founder of tinned-fish company Fishwife, love this gilded grinder. Freedman simply calls it "the star of my coffee table," and, according to Goldfarb, "the national nightmare that is un-aesthetically-pleasing cannabis accessories is now over, thanks to this simply stunning, stacked gold grinder." Freedman particularly likes that it's larger than a standard grinder, telling us "it's perfect for entertaining" if your quarantine pod members also like to partake. "It's a must for your friend who likes to indulge in the Devil's Lettuce (not Sweetgreen — weed)," Goldfarb concludes.

Hashley says she's "absolutely obsessed" with this silicone MouthPeace from Moose Labs, which contains "a replaceable carbon filter that can fit over any bong, vape, joint, or dab rig." Not only does the mouthpiece improve the quality of how weed tastes, it also filters out tar residue, she explains. "My lungs are a happy camper."

This "clean, classy, and extremely high-quality" accessory set is on the 2020 wish list of none other than etiquette guru Emily Post's great-great granddaughter Lizzie Post, co-president at the Emily Post Institute and the author of Higher Etiquette: A Guide to the World of Cannabis, From Dispensaries to Dinner Parties. "The lighters alone had me," Post says of the kit from Pennsylvania-based Rogue Paq, which also includes a stainless-steel clip-slash-packing tool, matchbooks, two storage vials, hemp rolling papers, trimming scissors, a grease pencil for labeling, and a handsome leather case to store it all in.

If your recipient needs a more sophisticated place "to stash their stash," Post loves these little jars from Los Angeles–based Apothecarry, a shop "where discretion and practicality meet luxury and class," she says. Nice enough to leave out on display, they'll also keep your "sticky-icky sticky and not icky," she promises.

Brett Heyman, the founder of Flower by Edie Parker, told us this is her "favorite pre-roll holder" and "go-to gift for a flower enthusiast." There are many things to like about it, she adds, including that "it's great-looking, the perfect size, and odorproof."

Hashley told us about this subscription service that sends boxes "packed with an assortment of high-quality cannabis accessories for any enthusiasts who want to collect all the right tools." If the monthly fee of $75 seems steep, she promises that "the affordability is amazing compared to the overall value range of each box because there's always a high-end item that any stoner would be happy to show off." This November's box, for example, includes a glass bong, stash jar, hemp grinder, raw cones, clipper lighter, odor-eliminating spray, and more.
To up the ante on your spliffs, House of Puff founder Kristina Lopez Adduci loves this herbal blend of peppermint, white sage, lion's-tail, and raspberry leaf. It "elevates anything you're smoking," she says. For best results, the brand recommends combining one pinch of bud to two pinches of the blend. If your recipient is too lazy to roll their own, April Pride, co-founder of the High Guide, recommends Barbari's pre-rolled spliffs, which she says are perfect for those who prefer a "low-dose" lifestyle.
Edible paraphernalia to gift

"This all-in-one device may be the greatest thing since sliced bread — in fact, you can make a fresh batch of stoney bread with it," Hashley explains of this decarboxylator. "One push of a button and you can decarb, infuse, and bake all in the same device." Because the odor is contained during the process, "it's an absolute must-have if you're shopping for a discreet stoner," she adds. Graham also loves the device, telling us it's compact — so it won't take up too much precious counter space — and "the perfect all-in-one tool for the budding home chef."

"Every stoner has a little baker in their heart," says Tarditi. "Making space brownies is one of my favorite pastimes, and the lockdown has been a great opportunity to perfect recipes." But, as he explains, making infused butter can be a less-than-exact science. "I messed up the dosage a few times (resulting in nonstop giggles followed by very long naps)," he says. That's where the Magical Butter Machine comes in. "The machine extracts all the goodness from cannabis and infuses butter and oils with the right amount of THC and CBD" so your baked goods come out perfect each time, he promises.

For budding bakers who need some recipe ideas, weed influencer and writer D.M. Blunted calls this "the perfect cookbook for cannabis enthusiasts and adventurous home cooks." Author Mennlay Golokeh Aggrey "demystifies the canna-infusion process, all the while dropping nuggets of cannabis history, science, and her own personal stories and experiences with the plant," she explains. The book contains 35 different recipes, including vegan options, "so if the idea of getting baked by baking or sautéing tickles you or your loved ones' fancy, this delicious and insightful read is for you," adds Blunted.
CBD-infused gifts

Should your enthusiast prefer CBD to THC, we heard about a bunch of ideas suited to their cannabinoid of choice. One is this dried hemp bouquet from women-owned and operated Lovepot. Freedman says it's her favorite gift to give this season because the arrangements are not only nice-looking but smokable — so once they've displayed it for as long as they'd like, your recipient is free to light the bouquet up.

After being sent a sample from Dad Grass, Strategist managing editor Maxine Builder has become obsessed with what she calls "the most weedlike CBD I have ever encountered." The pleasant buzz is so effective, Builder promises, that she says Dad Grass is "the CBD product that has convinced me that CBD is actually a thing."

Mary Pryor, co-founder of Cannaclusive, Fit for Us, Breaking Bread NYC, and Cannabis for Black Lives, incorporates cannabinoids in various forms in her self-care routine. To anyone looking to do the same, she suggests "this power-pack trio of tinctures" made to offer relief from anxiety and inflammation. If you want to lower anxiety and relax before bed, she suggests "Chill," while "Chronic" is her favorite period-pain reliever. And "The O.G." is great for daytime stress relief; Pryor says she "typically adds it to my morning tea."

Says von Pfetten of an all-too-true reality for some enthusiasts, "The hardest thing with weed gifts is that they're hard to get, particularly if you don't live in a legal state like California." If your recipient lives in a state where partaking is legal, she suggests gifting them a set of seasonal edibles from Rose Los Angeles. "Their Turkish-inspired delights are made with produce sourced from local farms and pressed rosin, as opposed to the distillate most commonly found in edibles," she explains. If your recipient lives in a state where they can't receive edibles, the next best thing, according von Pfetten, are these CBD rosin-infused delights that are available nationwide and "pack a very relaxing and tasty punch."

For another sweet treat, Adduci says that this CBD-packed bar "isn't just a great edible — it's hands down some of the most delicious chocolate."

Cannabis educator Cynthia Villamizar is a huge fan of Dogwood Botanicals's quality CBD products and transparent operation: To prove its products' potency, the company shares third-party lab-test results on its website, she explains. Villamizar particularly loves the brand's CBD cream, which combines hemp with "luxurious rose, calendula flower, and shea butter that will leave you glowing."

According to Blunted, "Blissful Stoner Body Essentials is the first Black-woman-owned and -operated CBD company in New Orleans." It sells a range of affordable bath and body products, including pain-relief rubs and face masks "for every level of cannabis consumer," like this one that combines CBD with purifying clay and anti-inflammatory matcha.

If you're shopping for someone who's more cannabis-curious, Villamizar suggests this bundle that includes a salve, an oil, and honey to experiment with. "CBD is not one size fits all," she says, and this allows them "to test whether they prefer to reserve CBD for sore muscles, if a low-dose honey is their fit, or if a high-dose CBD tincture is what they need to feel the zen."
"Brands are beginning to see CBD as just one in a broader pool of legal, beneficial cannabinoids," explains Broccoli magazine editor-in-chief Anja Charbonneau. "Black- and Latinx-owned Xula is taking it one step further," she explains, by offering "various cannabinoids in their tinctures and balms." She especially appreciates how the brand includes thoughtful guides to the ingredients in each product, as this wisdom is really helpful if you're just getting into the stuff. As for what she'd recommend to give, "I've been enjoying this "Ah!" tincture, which includes CBD, CBG, and a blend of herbs like passion flower and damiana." Parker also loves the brand but prefers its "Zzz! Lights Out" tincture, which she says usually has her drooling on her pillow within an hour.
More gifts for cannabis enthusiasts

"KushKards are one of my year-round go-tos for gifts," says Post, "whether the card and wrap are going to surround a gift or be the gift." She told us she gives the sets to her "THC- and CBD-loving friends all the time, and they always get a big, happy reaction." While the brand has plenty of options that "run the gamut from stoner classics to super-classy," she loves this set for the holidays, which comes with a card, wrap pack, and gift bag.

"I am a huge fan of Broccoli and Piecework Puzzles, so this 1,000-piece puzzle is the collab gift of the season," declares Freedman. The scene features lots of flowers, like anthuriums, orchids, daisies, and, yes, weed.

Speaking of Broccoli, Tarditi says a subscription to the cannabis-centric magazine would certainly be appreciated by any enthusiast who wants to learn more about their hobby. He calls it "a key reference for those interested in sophisticated writing, avant-garde design, and overall good taste." The all-women team produces three issues a year, in March, July, and November.

If your recipient tends to get a little rosy-eyed after a smoke sesh, Goldfarb loves these "pink, sparkly" (and Strategist-approved) eye drops. "They make me feel like an anime schoolgirl!"
"I'll go to the mat for the fact that Pure Beauty's flower makes for the best high — and the most eye-catching packaging — on the market," says von Pfetten. If your recipient doesn't live in a state where they can get their hands on some of its bud, she suggests buying them some of the brand's merch so they can at least "rep one of the coolest brands on the market." As for what merch, von Pfetten says: "Make it a twofer by pairing their plush, yellow, googly-eyed beach towel (seasonality be damned) with a three-pack of their mellow tie-dyed masks."
The Strategist is designed to surface the most useful, expert recommendations for things to buy across the vast e-commerce landscape. Some of our latest conquests include the best acne treatments, rolling luggage, pillows for side sleepers, natural anxiety remedies, and bath towels. We update links when possible, but note that deals can expire and all prices are subject to change.