Northbrook-based safety certification company UL (Underwriters Laboratories) has its certification mark on some 22 billion products around the world. It's funded by fees manufacturers pay to have those products tested and certified. A facility at the company is working to keep potentially explosive environments safe. But you might be surprised how prevalent those environments can be – and the common things that might trigger a safety hazard.
Inside a neat, nondescript building on UL's campus, the newly expanded hazardous locations testing and certification lab is open after extensive planning and construction.
Thanks to our sponsors:
"We've been working on this for about three years now. It took about that long to source the right equipment, plan out the safe operation, because this also becomes a hazardous location," said Milan Dotlich, who heads up UL's energy and power business for North America and Europe.
The new lab features a wide variety of fully automated tests, with one crucial goal. "We help prove that products will do one of two things: either prevent an explosion or they will not create an explosion," Dotlich said.
And the kinds of products that could cause an explosion if they're improperly built are about as common as they come.
"If I take my cellphone into a hazardous area, I want to make sure that it won't have any sparking or arcing parts that could cause an explosion. In this new lab, we prove that out," Dotlich said.
Lab manager Bill Hoffman demonstrated one of the facility's explosion vessels. UL drills into a product it's testing and runs flammable gas into it to make sure nothing leaks out.
"We set up the sample, close this vessel down, it'll lock in, and once we get the right gas mixture, we'll hit the spark plug and it'll hopefully not ignite the gas – but if there is a failure, the gas will ignite and there will be a plume of flame that comes out from the sample," Hoffman said.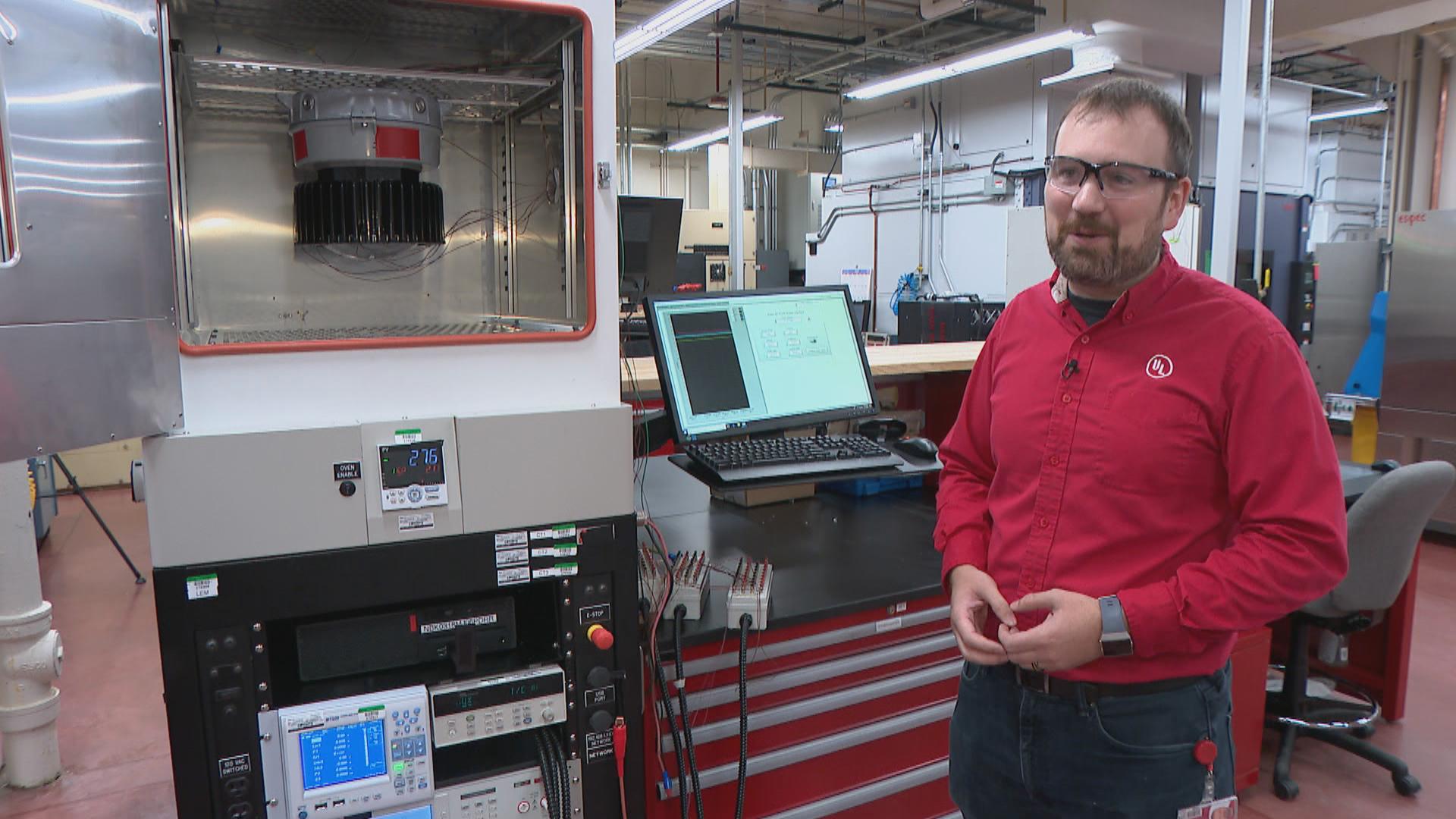 Bill Hoffman, laboratory leader for UL (Underwriters Laboratories) hazardous locations facility in Northbrook. (WTTW News)

The top of the explosion vessel features an ultra-high speed camera, allowing UL to see exactly where the product it's testing failed.
UL says its hazardous locations facility is the largest of its kind in North America. And it's not just working with the kinds of industries you might expect, like oil and gas. The work touches everything from food to pharmaceuticals to transportation.
Another application soon to be especially relevant in Illinois: marijuana and CBD production.
"We've seen so much development in the plant oil extraction industry including cannabis. There's a lot of significant product development going on because that business is growing so quickly," said Ken Boyce, principal engineer director at UL. "The estimates are $30 to $40 billion globally by the year 2021."
Some plant oil extraction (think CBD oil) is done using flammable chemicals like butane or ethanol. Other methods involve applying extremely high pressure.
"They don't necessarily use the same volatile compounds, but the chemicals that are used like CO2, they themselves can present some health hazards and the high pressure operation of those systems can cause significant injury hazards," Boyce said.
At a different testing station, workers can measure the heat produced by things like a light fixture to establish where it's safe to install.
"Say the temperature gets to 200 degrees Celsius," Hoffman said. "The ignition temperature of grain dust is 185 degrees Celsius, so you don't want to install that in that facility or it would cause an explosion."
That's right: dust can be flammable too. The UL facility features a huge chamber that tests for what's called ingress protection (basically, can any dust get into this product and cause an explosion?). They'll test everything from phones to ATM kiosks to flashlights.
"Once the test starts running, the talcum powder will cloud through the whole chamber and as the test runs over eight hours we'll see if talc dust gets into the sample," Hoffman said.
The new UL facility isn't just a point of pride for the company. It's also a way to help keep up with big changes, in old-school fields like energy production and newer ones like cannabis and CBD.
"A lot is happening in very rapid fashion, but we're there to help make sure it's safe," Boyce said.
---
Related stories:
Tour the Southeast Side Facility Producing New CTA Rail Cars
Illinois Officials Urge Preparedness Following California Earthquakes
Self-Focusing Glasses and Other News from the World of Science
Thanks to our sponsors:
Thanks to our sponsors: